30th april and 1st may 2022 / A.K.A Labourniarof – 8 Pillards Factory / Marseille – France
List of guest artists: Douglas Edric Stanley, Guy André Lagesse, Thomas Molles, À Plomb', Niklas Roy, Kati Hyyppä, Antonin Fourneau, Felix Pankraz, Guillaume Stagnaro, Chloé Desmoineaux, Jérémie Cortial, Paul Gaston, Antonin Fournier, Pacome Ricciardi, Pierre Blanchard, Thibauld Gaudry, Lucy Lagesse and panpan club.
List of students from Aix-en-Provence art school ESAAix: Célia Tremori, Flore Garcia, Rhita Jdaini, Faustine Perillaud, Velvet Aubry, Elie Bolard, Natasha Decurty, León Molina, Maxime Catanese, Nicolas Fleurot, Amaya Cascio, Anna Costes and Zijun Feng.
Coordination: Thomas Molles, Emilie Rossi, équipe des 8 pillards, Sylvain Huguet and Antonin Fourneau.
Cookchief: trib.
Graphisme: Tiphaine Dubois and Vincent Sonic A.K.A Alouette sans tête.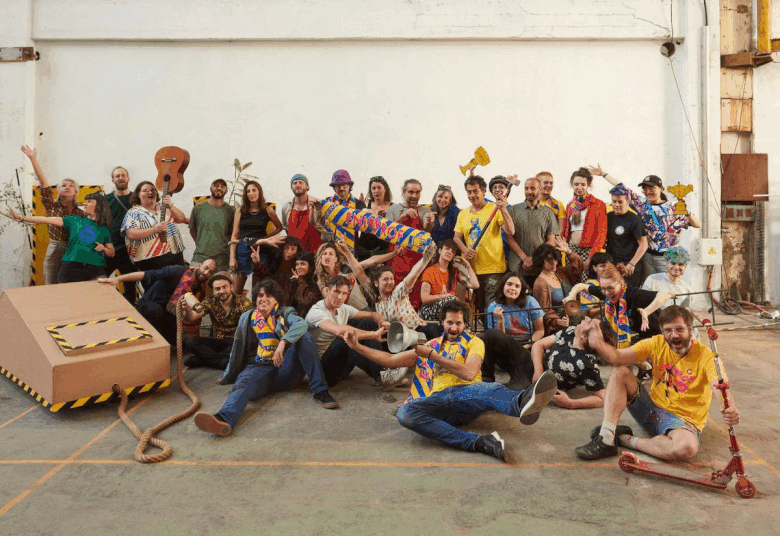 A special Eniarof event took place in Marseille at a unique location called Les 8 Pillards. Located in a former factory, previously known as Pillard, a collective of 8 entities, hence the name 8 Pillards, have renovated the 5000 square meters for over 2 years and Eniarof was fortunate to be their first public event. For this occasion, Thomas Molles and Antonin decided to try and make a large-scale Eniarof event with several support including the Dicréam (formerly CNC digital creation support). This is how the organization of a workshop "laborious game" with the Aix-en-Provence Art School was able to take shape in two stages from March 14th to 18th, then from April 24th to April 30th, the day of the event's public opening. It was an opportunity to bring out the Eniarof card game to quickly brainstorm some ideas. The theme of this workshop was Labourniarof as the event was taking place during Labor Day.
Here is the editorial of this edition that well summarized our intentions after 2 years of lockdown:
We are living in a period where public events are endangered by the pandemic and where online entertainment platforms (games and video streaming) are taking up more and more space in our daily lives. We have plunged into a world of distancing by creating increasingly blurred borders between our leisure and work environments that tend to merge within our private space. Proposing to set up a new kind of fairground in an old factory in Marseille during a one-week workshop ending with a presentation during the Labor Day weekend sounds almost like a manifesto of a vital need for connection between creators and the public. It is obvious that the future is becoming increasingly connected, and humans will seek tangible social connections out of mental necessity. It is also obvious that work needs to be rethought today. Linking and questioning the place of work and leisure will be at the heart of the reflections and proposals of the participating artists.
The invited artists also quickly joined the event's theme "laborious game", which resulted in a large-scale Eniarof event with no less than twenty attractions, including: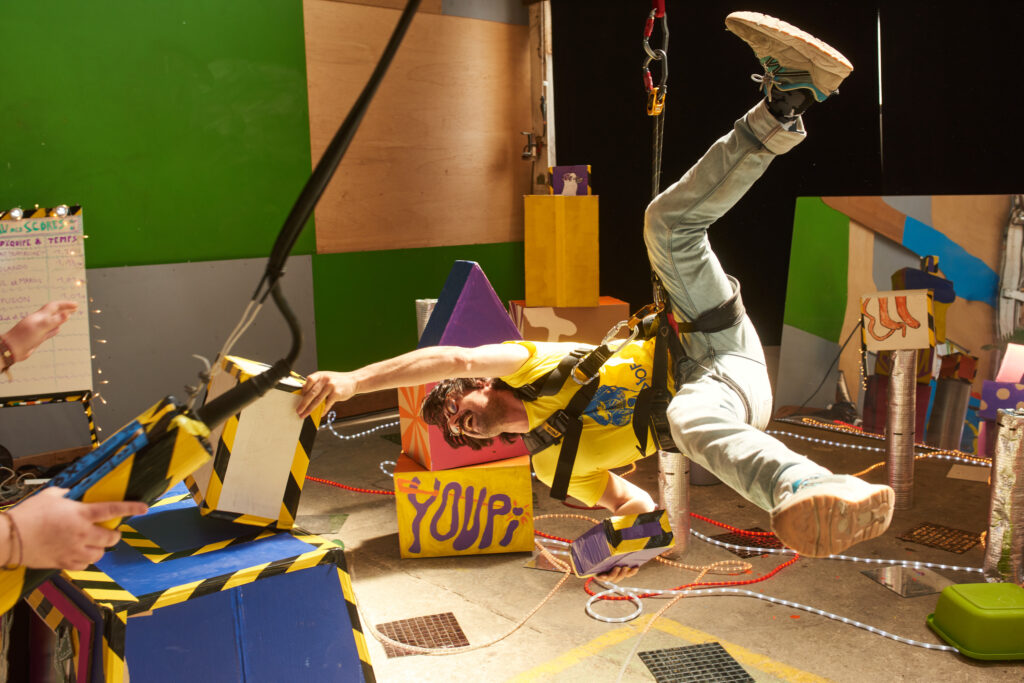 Turbox by Lucy Lagesse, Antonin Fournier, Velvet Aubry, and Célia Tremori, Using the hoist on site, the team created a kind of human fairground claw crane game played by two players, where one plays the claw and the other controls its position. Then they had to reconstruct an exquisite corpse using modules.
YNF Dance by Maxime Catanese, Faustine Perillaud, Elie Bolard, and Natasha Decurty, A dance floor made up of a sound system, lights, and a computer. The computer keeps sending you notifications that you have to respond to so that the music can play correctly.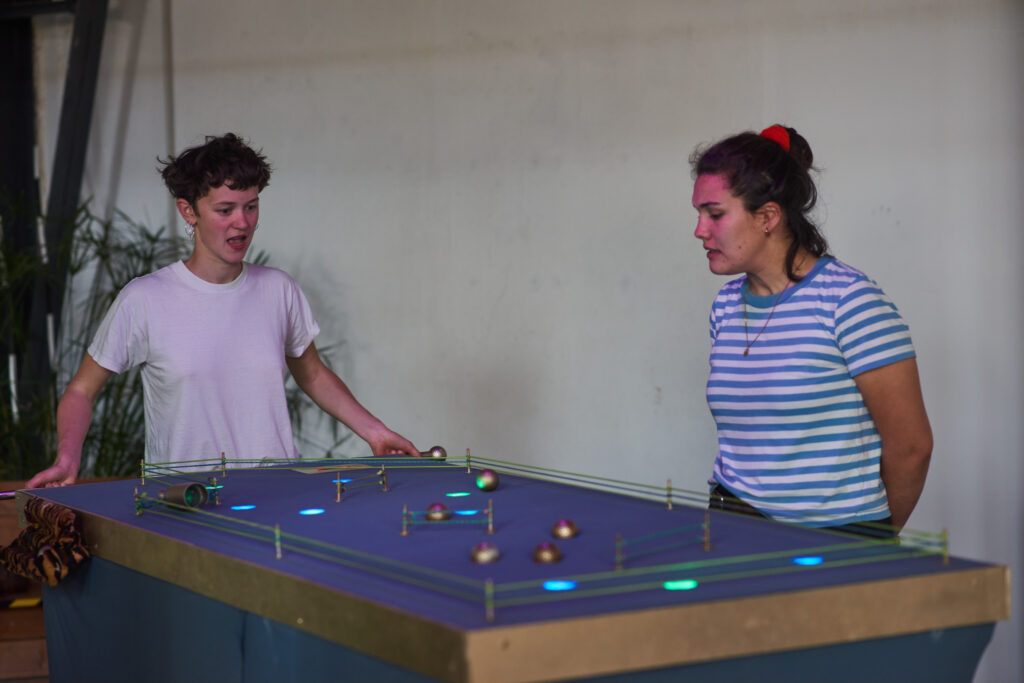 The Miard by Rhita Jdaini, Pierre Blanchard, and Thibauld Gaudry, a reinterpretation of billiards and pinball in a mafia mode where you have to guide your balls through different green (the color of bills) and white holes to launder money. Be careful not to fall into the holes that blink red and blue: the cops.
Octoshot by Amaya Cascio and Anna Costes, a bike equipped with a metaphorical aquarium in which you had to search and clean the bottom of the sea to extract an elixir that was more or less good depending on whether you found treasures or debris.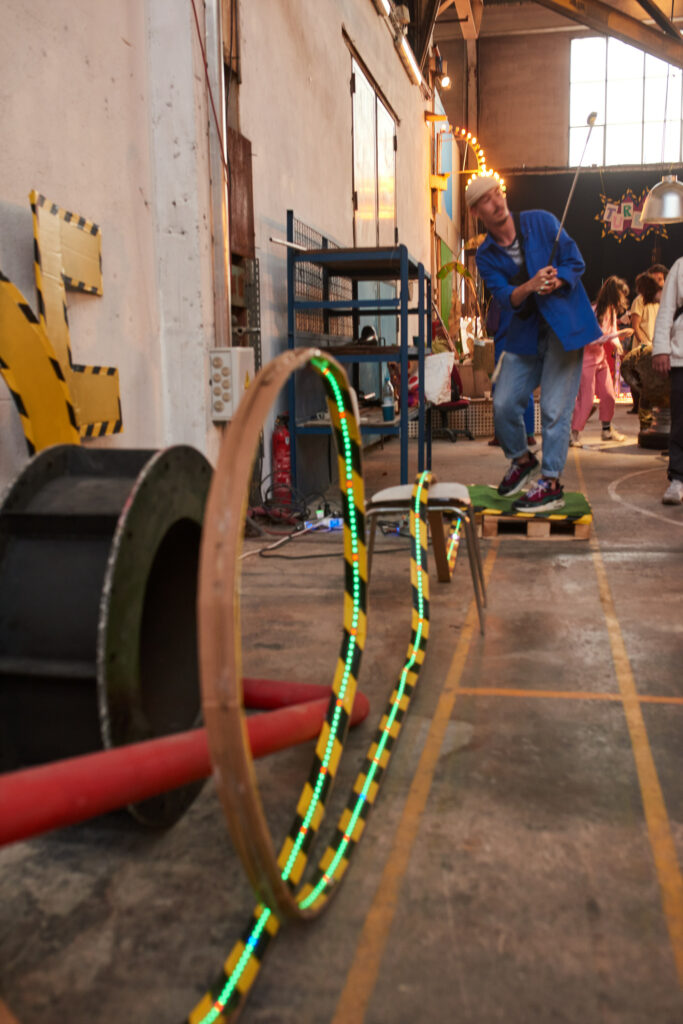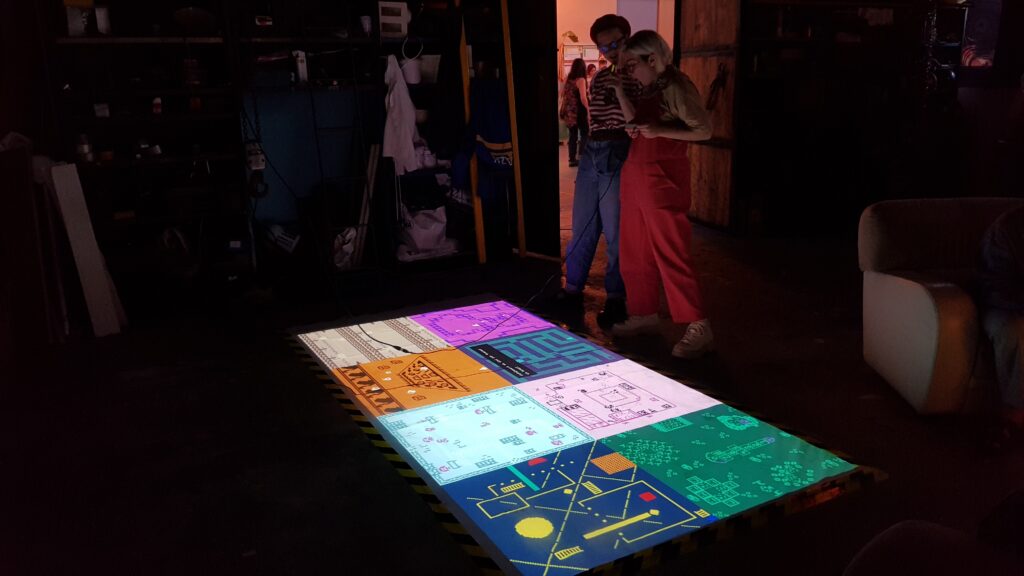 Pangpang tripo by the pangpang club, a series of game proposals made by the pangpang club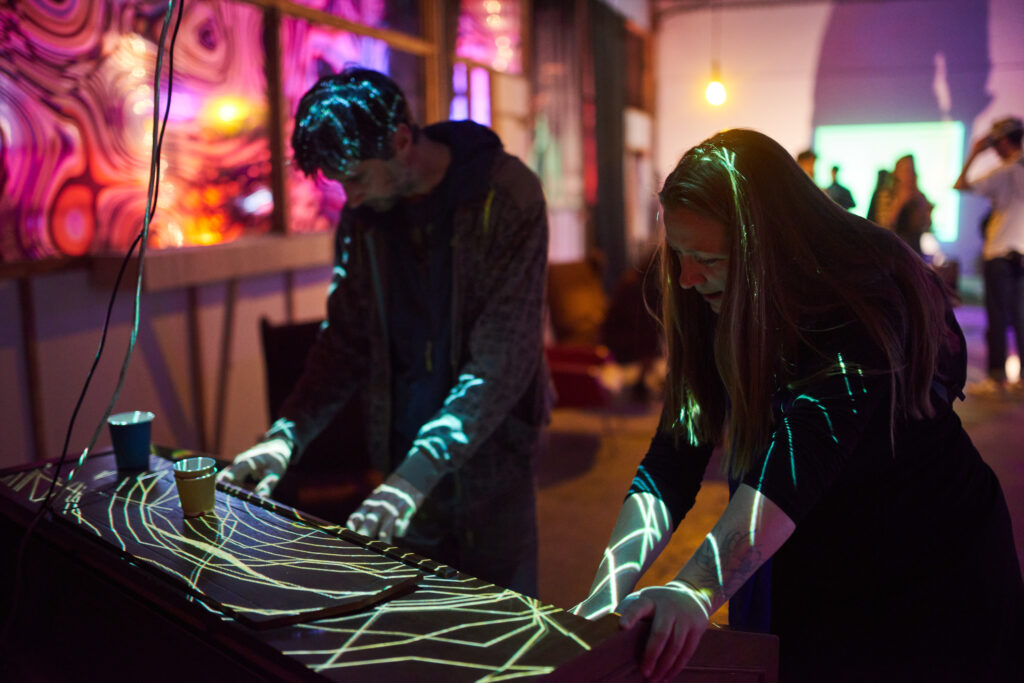 Symphonik by Douglas Edric Stanley, an organ found on site transformed into a musical shooter game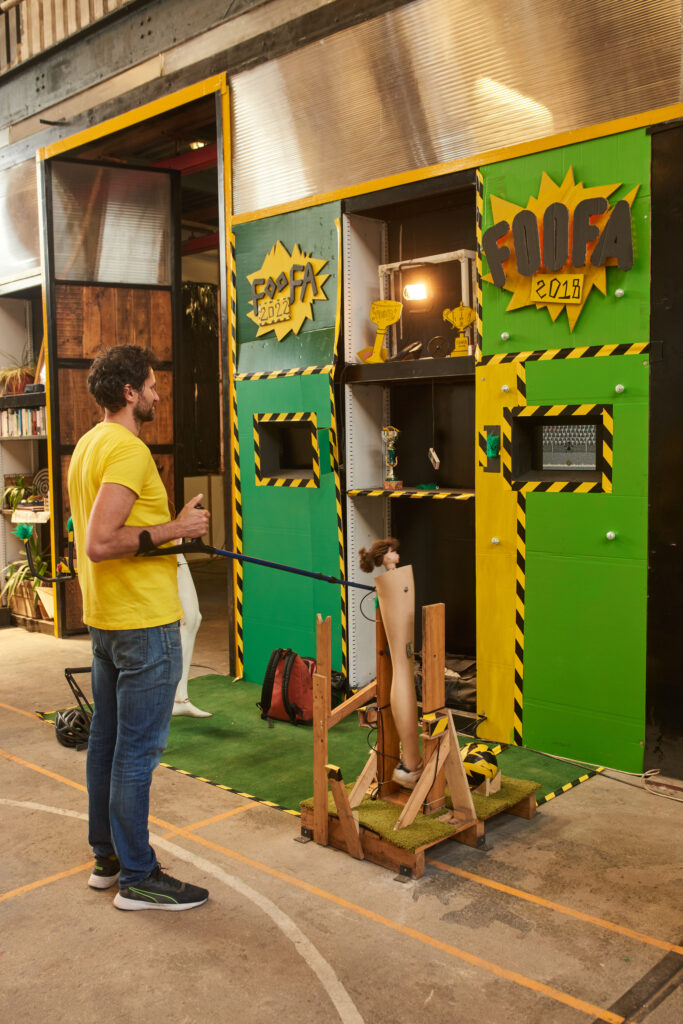 Foofaball by Felix Fisgus and Thomas Molles, already presented at Eniarof#26 A.K.A Malakoniarof. This installation offers one-legged goalkeeping sessions.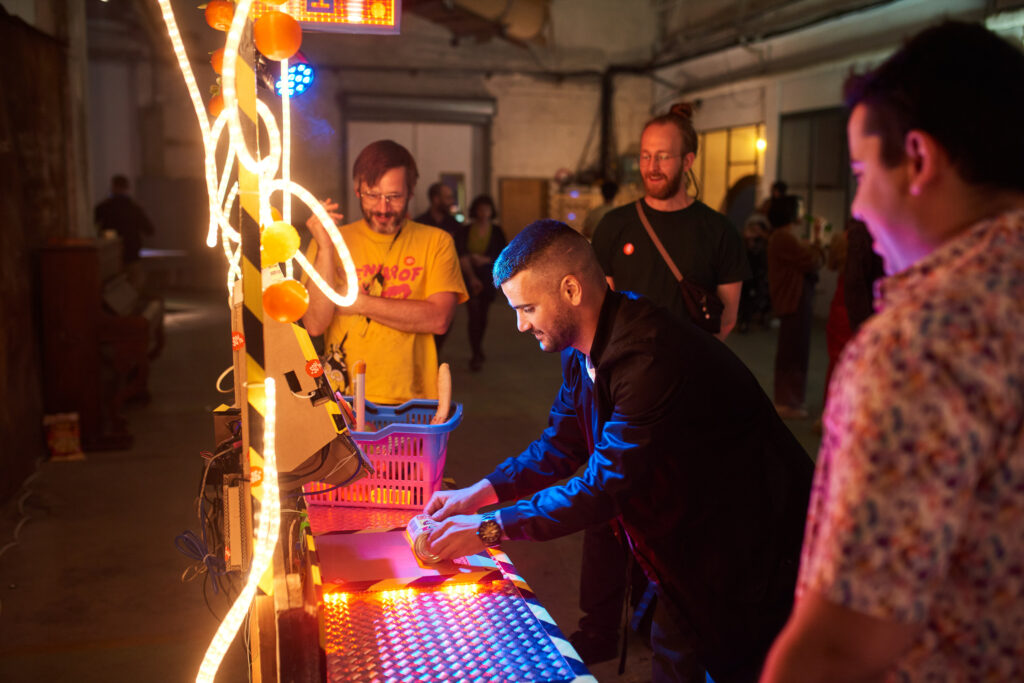 Bon prix by Kati Hyyppä and Niklas Roy, A game where you have to scan products at the checkout as quickly as possible, a way to make one of the most tedious tasks in the world more fun.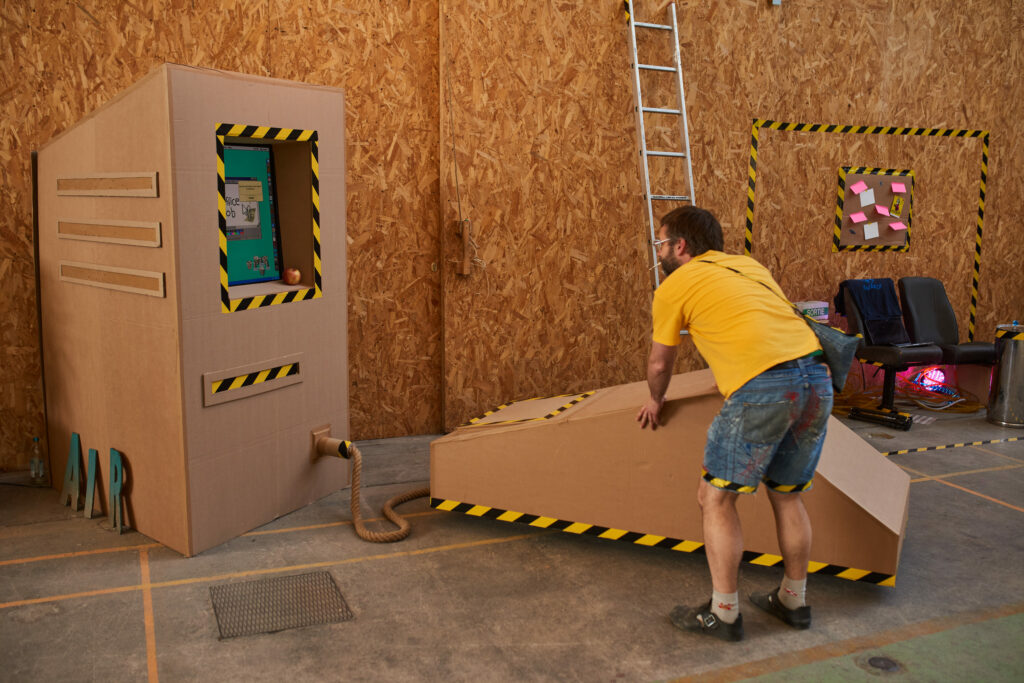 Office Job by Felix Fisgus, Thomas Molles and Pierre Blanchard, An attraction paying homage to the Macintosh and its design in which you have to move a large-scale version of the mouse to close pop-up windows that keep opening while paying attention to the time that's passing.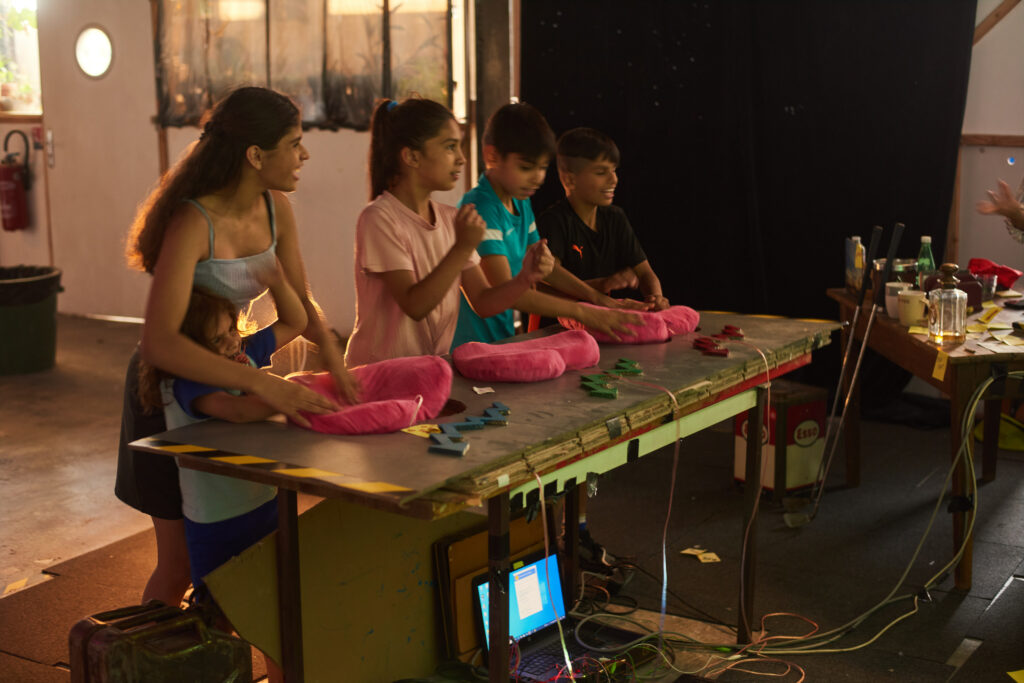 Cœur à l'ouvrage by Chloé Desmoineaux and Faustine Perillaud, You bump on a big button to increase your statistics like stock market data but be careful because the boss (another player) can decide to help you or put obstacles in your way.
Chienpo electric by Jérémie Cortial, a video game that uses mechanics similar to Donkey Kong, but with a laser to display sprites and factory walls as the playing field.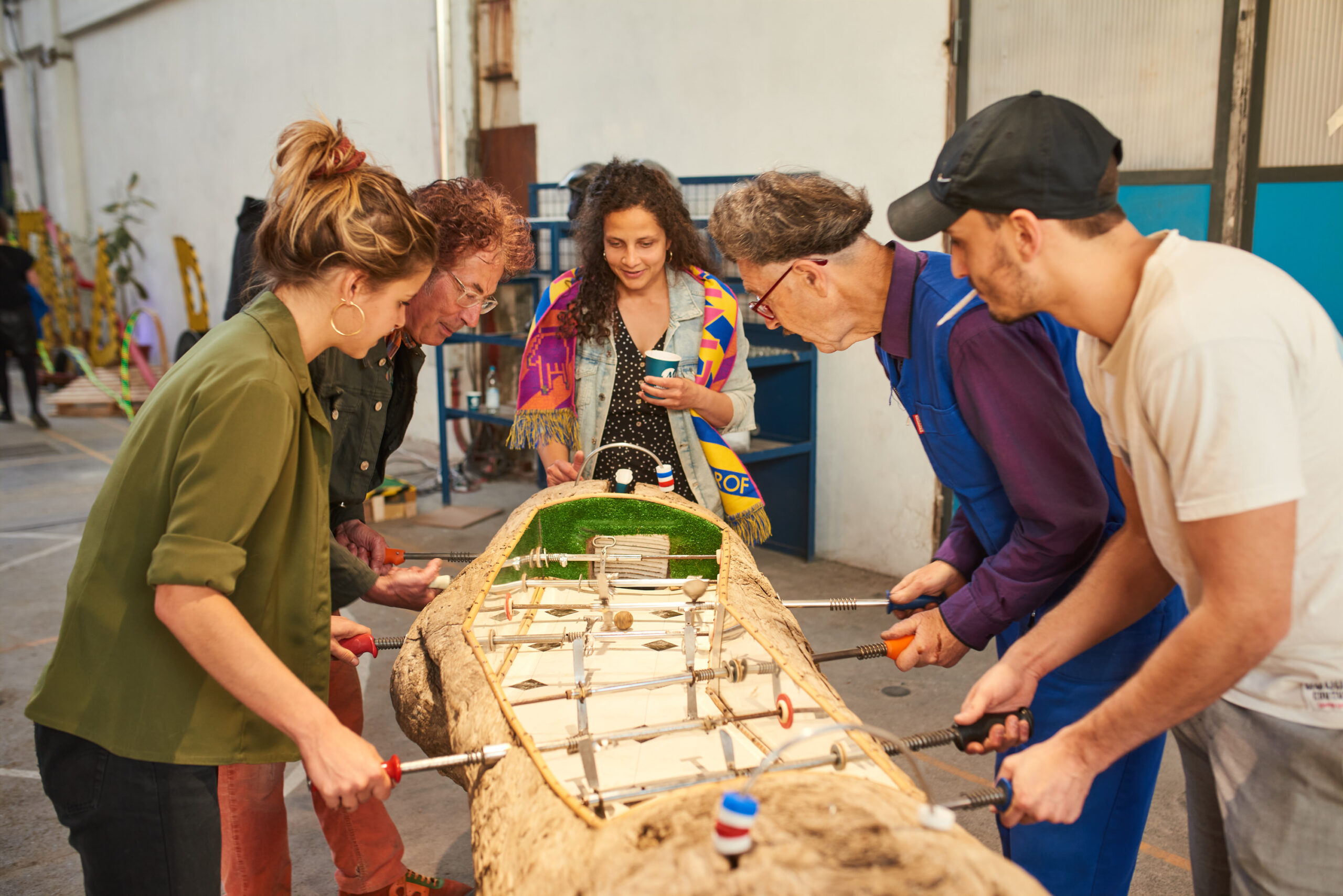 Baby Guy by Guy-André Lagesse, a babyfoot game made in a large driftwood log, where the players are replaced by forks and spoons.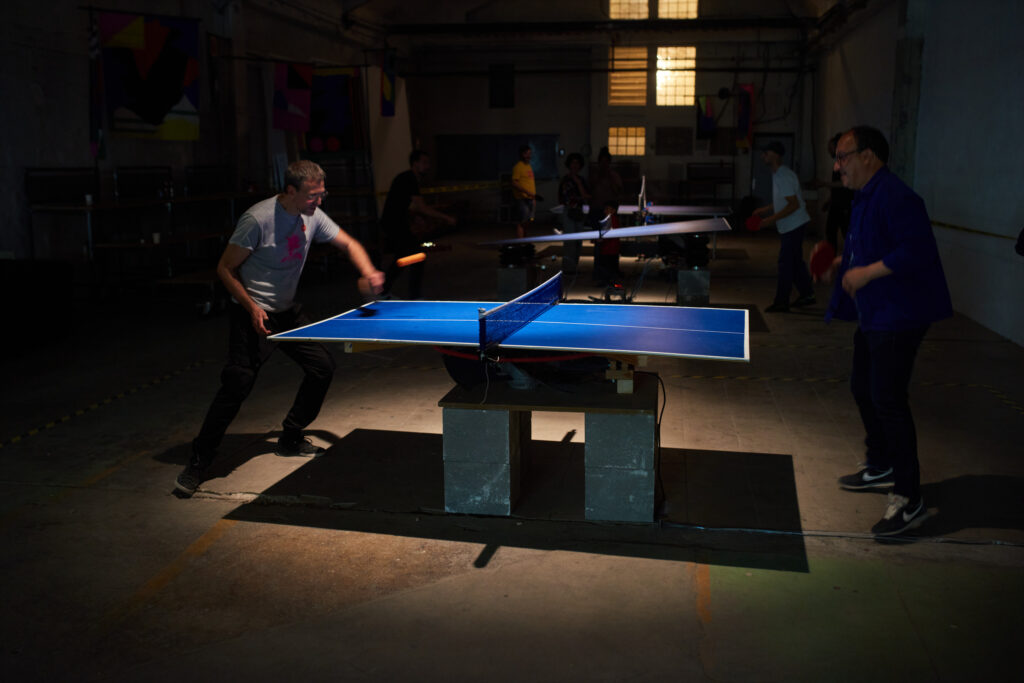 Metapong XP1, XP2, and XP3 by Manuel Braun and Antonin Fourneau, a series of mechanized Ping Pong tables that make gameplay more complex. For this Eniarof event, a new proposal, the XP3, was continuously rotating.
And let's not forget the fantastic graphic communication created by the local graphist team of Alouette sans tête :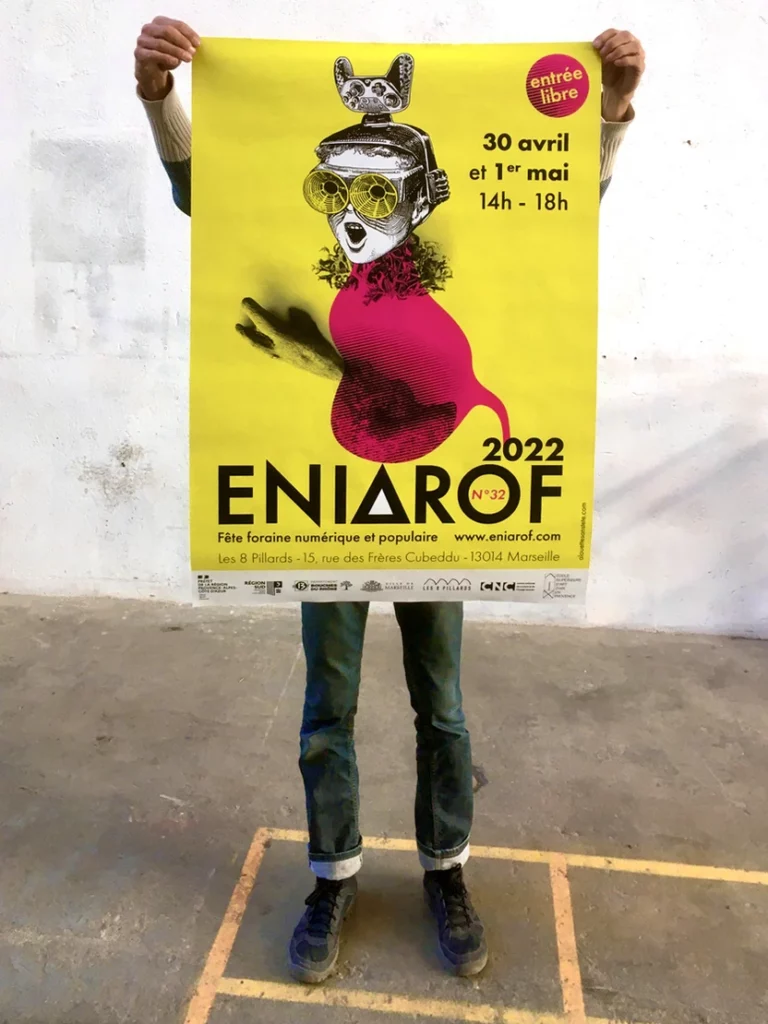 And on this occasion, we brought back the concept of the bar Eniarof with drink and dice.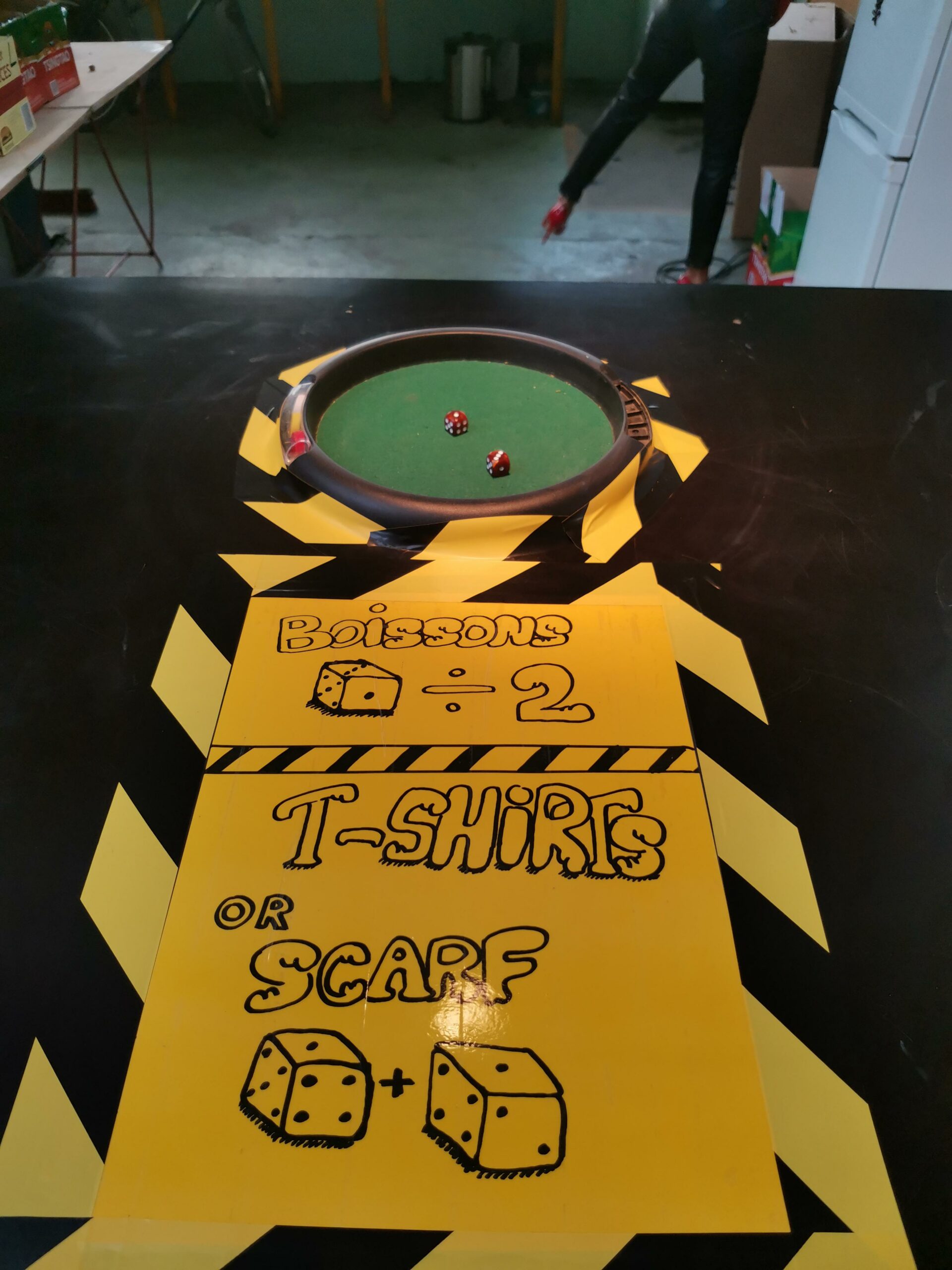 And we had also a super cool session of printing clothes with Jérémie Cortial Chienpo :