ENIAROF is a revisited funfair, a platform experimenting with other modes of interaction with the public. It questions what a funfair would be today with the same criteria of fun innovations as the fairgrounds of the last century and which saw the birth of cinema, elevators or even cotton candy.
The creators of each Eniarof are inspired by ancient and emerging popular cultures around the rules of "Dogmeniarof". Joyfully and unabashedly meet areas such as karaoke, lucha libre, video games, installations and artistic performances, B movies, and cabinet of curiosities to give birth to a friendly, but ephemeral, monster with heads, only definable under the denomination "this Thing which one names Eniarof".
On the initiative of Antonin Fourneau in 2005 under the supervision of Douglas Edric Stanley. The event has been renewed for until now, both in France and abroad sometime more than one time by year. The project has mobilized many transdisciplinary artists : Niklas Roy, Florent Deloison, Sophie Daste, Jérémie Cortial, Chloé Desmoineaux, Raphaël Isdant, Jankenpopp, Kati Hyyppä, Manuel Braun, Onur Sönmez, Boštjan Čadež… ENIAROF is also an opportunity to design new projects differently during workshops organized before each event. The fun fair being the culmination point of these intense weeks of preparation.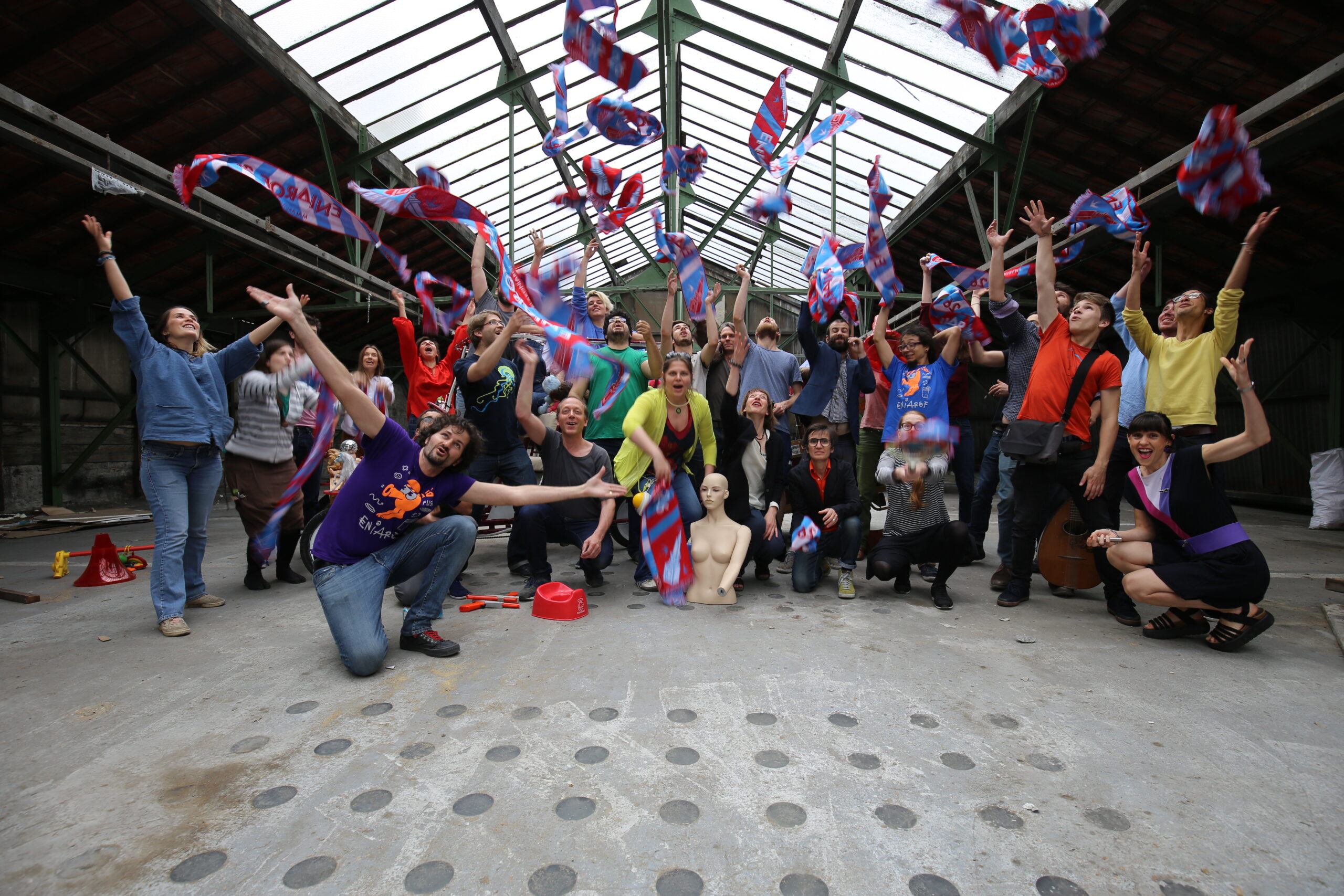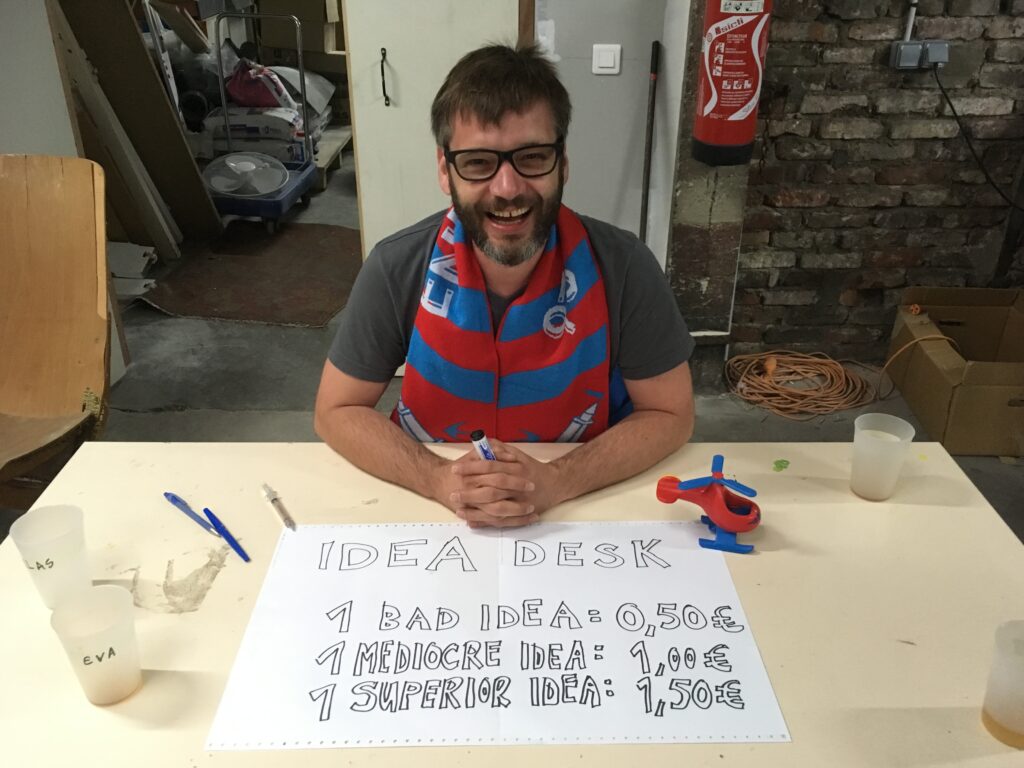 The DOGMENIAROF by Antonin Fourneau – 2005
Although ENIAROF takes as its point of departure the term "funfair", in no means must it take place within a funfair (especially contemporary!). To the contrary, it can in fact be seen as its re-appropriation (détournement).
Installations must be built on-site, although materials may be prepared in advance. If a work has not been created for Eniarof, it must blend in with the rest. In the same vein, an Eniarof artist can introduce works of another artist, but he or she must then take charge of its integration.
An ENIAROF artist may consider inviting the work of another, but it is he who takes charge of this project.
Each Eniarof participant must contribute to at least one of the aspects of preparation: communication, management, installation, dismantling, etc.
Each participant can seek private financing/partnership for his or her attraction. A blank space will be reserved on all Eniarof communications for partner's logos. (Artist-as-athlete?)
Each participant will help in at least one other project, both to keep the atmosphere convivial, but also to take pride in another installation functioning if by chance one's own installation is not working.
All participants must avoid superfluous expenses. Do not attempt to hide traces of the work's production within an encasement for which you do not have the means. Eniarof organizers can only be paid percentages of fees that in the end are destined to artists. All other assistants in the production of Eniarof cannot be paid any more than the participating artists are themselves paid. In the same sense, the barman, the guardian, the ticket-taker, … are not paid any better than the artists themselves.
Each participant must take care that people within their entourage know about ENIAROF.
The authors of attractions cannot be labeled during the event itself, however attribution can be communicated in the press releases.
Every artist participating in Eniarof, and for which the Dogme has not yet been translated into his or her native language, must translate said Dogme (or have it translated) and publish this document (for example: on-line).
Each participant must identify the principal idea and material needs of his or her attraction approximately three months in advance of the event.
Each participant must possess an Eniarof t-shirt to promote 'da crew in swank cosmopolitan parties. The artist can make his or her own t-shirt, or obtain one of the printed t-shirts during the event.
An Eniarof must be produced within at least an hour of an Emmaüs center, or its equivalent (for raw materials).
All materials borrowed from Emmaüs or its equivalent must be returned after the event, except in special pre-negotiated cases (for example, in case the object has to be dismantled or transformed).
In order to reinforce the idea of a network of participants, former Eniarof participants are invited to participate in at least one new Eniarof. In this way, artists enact the links of the network.
An Eniarof project must be an attempt at making an attraction. The attractiveness of the work will thus be its judge.
The attractions should 'spill-over' into each other. Do not get obsessed with some pre-defined form. The overall spilling-over of one work into each other will create a backdrop for Eniarof (its social cohesion), the esthetics of an Eniarof (not necessarily the same for each iteration). If a neighboring artist spills over too much into your space you have several solutions: reroute his or her spill-over, steal their work from them (risking being robbed from in turn), build on top it, …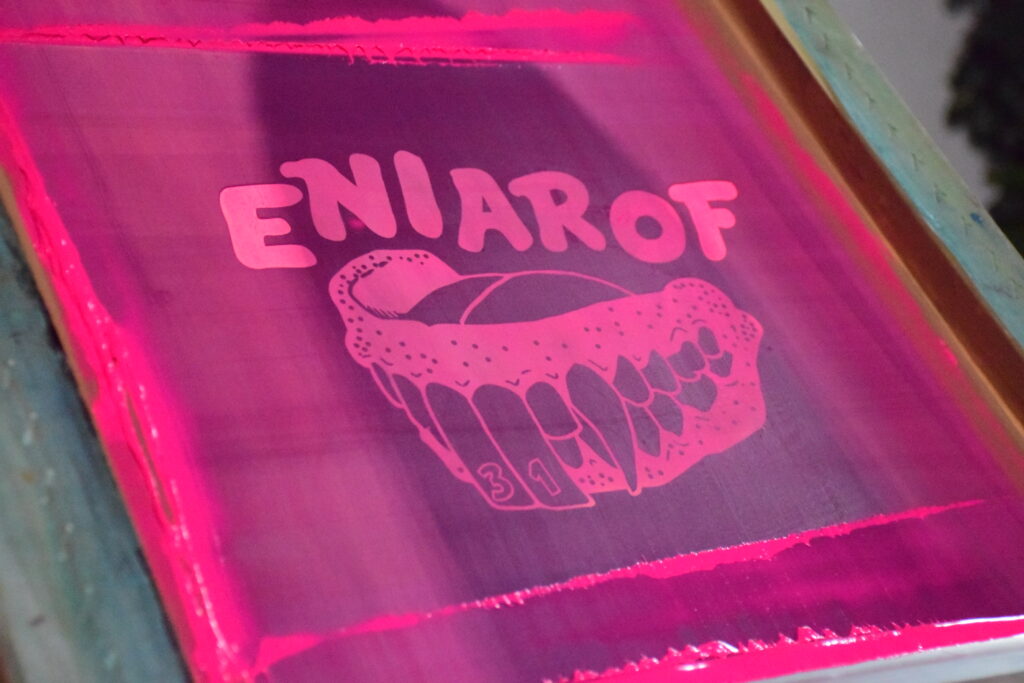 The Bookniarof
A Frankenstein book, a sort of aggregation of the benjamine electronics review, the big brother fashion magazine, mom's welding arc manual, and dad's Japanese cookbook.
This edition recounts 12 years of adventures and offers the reader a part of the unique recipes and tricks of ENIAROF. It can be read like a cookbook, where not all recipes are strictly followed but instead allow for improvisation with what you have on hand. You will find a lot of attraction recipes and detailed sheets covering the most technical aspects of programming, DIY, and cooking.
The book is available here at the Editions 1980 (in French) : BOOKNIAROF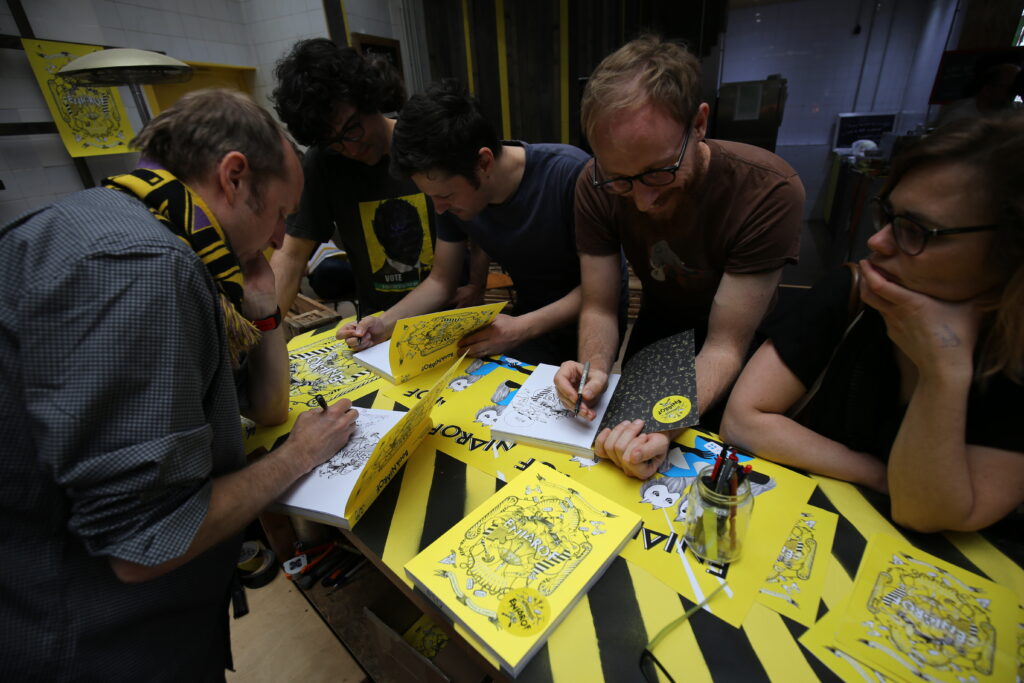 The list of ENIAROFs since 2005 :
2005
2006
ENIAROF 2 – Festival Emergence, Paris
ENIAROF 3 – Festival Arborescence, Marseille
ENIAROF 4 – ESAA, Aix-en-Provence
2007
ENIAROF 5 A.K.A SLOVENIAROF, Maribor Slovenia
ENIAROF 6 – Festival Emergence, Paris
2009
ENIAROF 7 – ESAA, Aix en Provence
ENIAROF 8 – Maison folie Wazemmes, Lille
2010
ENIAROF 9 – Festival KontactSonor, Châlon-sur-Saône
2011
ENIAROF 10 – Festival KontactSonor, Châlon-sur-Saône
ENIAROF 11 – Centre Culturel Bellegarde, Toulouse
ENIAROF 12 – Parc de Blossac, Poitiers
2013
ENIAROF 13 – Marseille 2013, Aix-en-Provence
2014
ENIAROF 14 – Maison Folie d'Hospice Havré, Tourcoing
ENIAROF 15 – Festilab, Avignon
ENIAROF 16 – université CAFA, Beijing
2015
ENIAROF 17 – FrankensteinMedia, Avignon
ENIAROF 18 – Condition Publique, Roubaix
2016
ENIAROF 19 – Polytech Festival, Moscow
ENIAROF 20 – NRW Forum Museum, Düsseldorf
2017
ENIAROF 21 – ICI Montreuil, Montreuil
ENIAROF 22 – EFEST, Tunis
2018
ENIAROF 23 – Le Carreau du Temple, Paris
ENIAROF 24 A.K.A ConakryNiarof, Conakry
ENIAROF 25 – A.K.A AmazeNiarof, Berlin
ENIAROF 26 – A.K.A MalakoNiarof, Malakoff
ENIAROF 27 – Institut Français, Tanger
2021
ENIAROF 28 – Douai
ENIAROF 29 – Rosny-sous-bois – France
ENIAROF 30 – CostaRica
ENIAROF 31 – Mexico
2022
ENIAROF 32 – Marseille
ENIAROF 33 – Rosny-sous-bois – France