8 and 9 November 2013 / Art School / Aix-en-Provence – France
List of guest artists : Antonin Fourneau, Manuel Braun, M. Moo, Students from ESAAix, students from HEAD Geneva, students from FAIAR, Manu Morvan, One Life Remains, students from ESAAix (Chloé Desmoineaux, Thomas Molles, Kent Robinson, Sarah Deblonde Diane-Aïda Jureidini Natacha Juhot and Sébastien Arrighi…)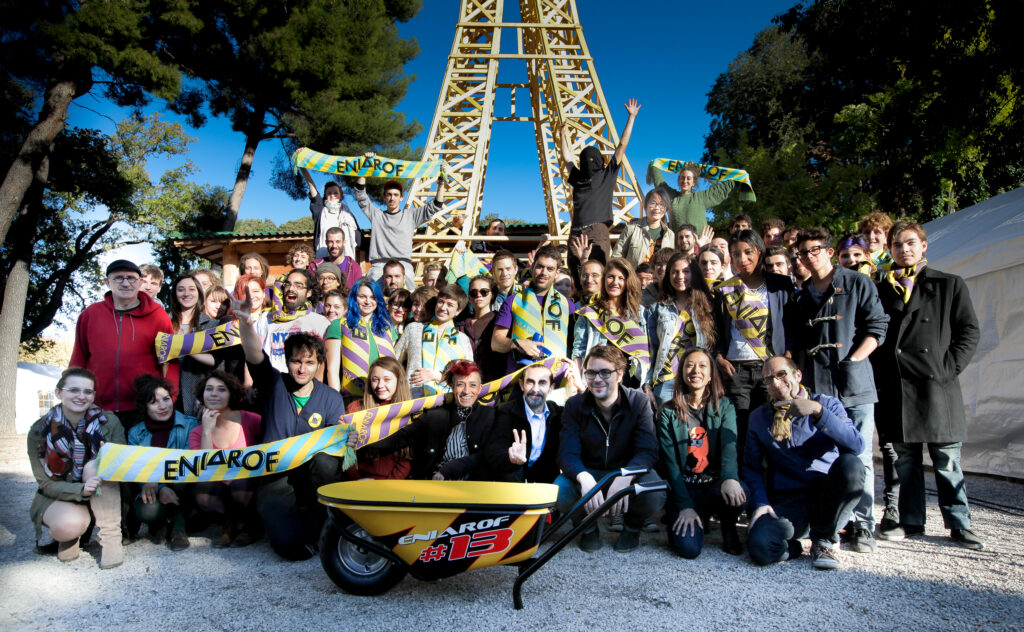 A 13th Eniarof of great scope took place on the occasion of Marseille – Provence 2013 European Capital of Culture. For the fourth time at the Ecole Supérieur d'Art d'Aix-en-Provence thanks to the collaboration of the association Lab GAMERZ organizer of the eponymous festival.
With nearly 140 participants from the school but also from the HEAD in Geneva (with its new media master) and the FAI-AR in Marseille (artistic training dedicated to creation in public space). The students worked with invited artists to create about thirty attractions in 10 days that the public could discover on November 8 and 9, 2013.
This Eniarof was an opportunity to bring together 3 schools. More than a hundred people were involved in this project that came to life after two weeks of intense workshops of attractions. The 1200 visitors were able to admire: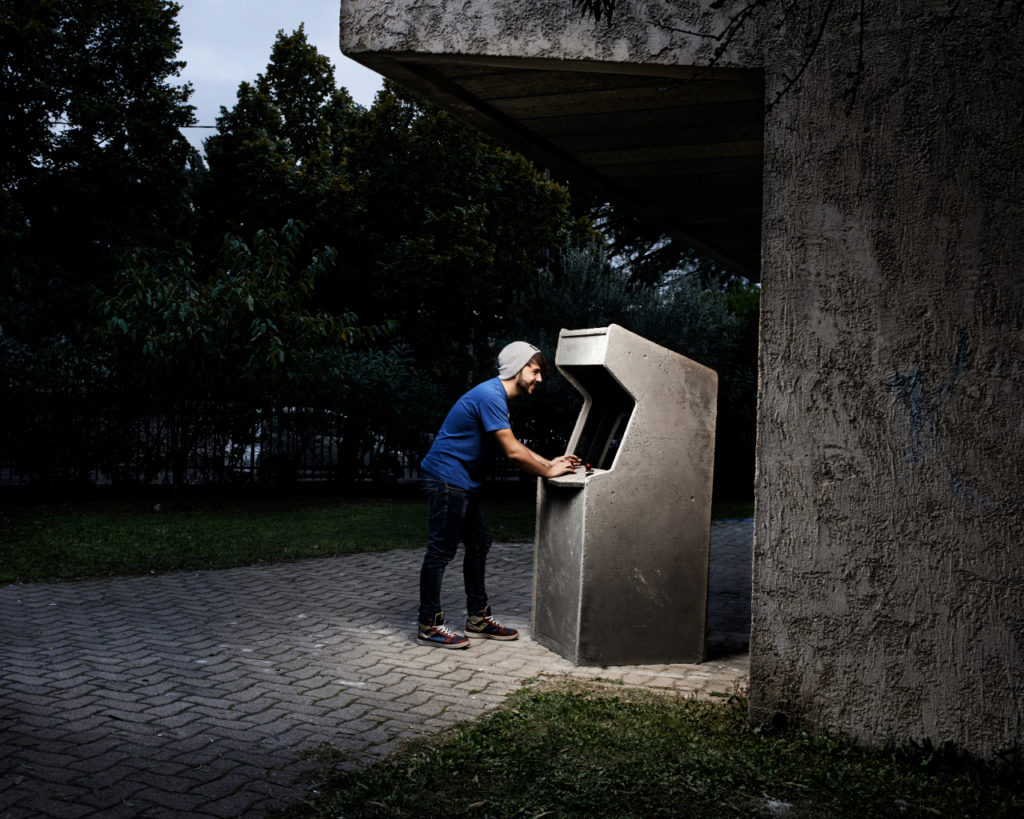 Arcade concrete by Manuel Braun and Antonin Fourneau, Ping pong tables made of steel or concrete are a familiar sight in parks and playgrounds. However, Concrete Arcade pushes the envelope by posing the question of where video games could potentially be played in public spaces in the future. The installation aims to create a novel experience for video game players in urban environments, one that differs from the traditional stance of players hunched over their smartphones.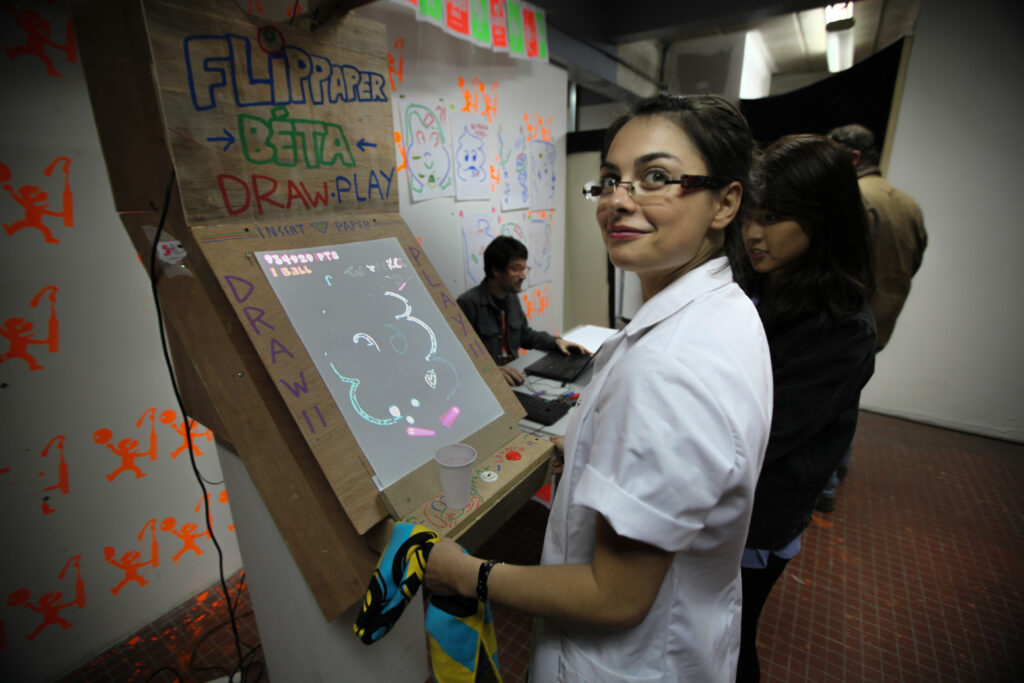 Flipapper beta by Jeremie Cortial and Roman Miletitch, where you can design your own pinball using only markers and a piece of paper. The beginnings of a future success story.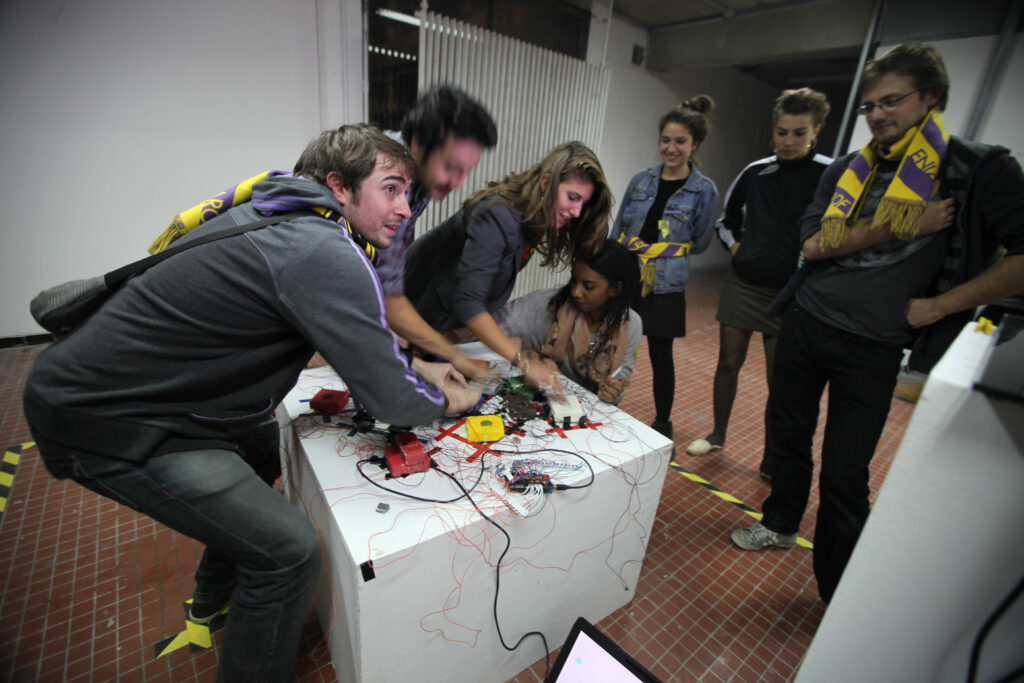 SOTA by One Life Remains, one of the flagship attractions of Eniarof, created in 2013 and present in the book. A 4 players competitive racing game : every time your avatar changes colour, you have to switch for the gamepad of the same color, if you want to keep running forward. As a festive and unique form of stress-reliever, the game is a typical punk experience, with destructible buttons painted in 12 different colors, psychedelic graphics and a 1000 BPM music.
Sondez-vous! by Chloé Desmoineaux and Manon Derain, between augmented sport and a tactical game where you have to hit your opponent in a single turn-based movement knowing that each movement produces sound and can betray you. Another creation from Eniarof #13, which has also been making its way around.
Lulu White by Jason Cook, where a performer wearing a wireless glove covered with sensors controls an object at long distance with real-time precision. This allows the performer to be in two places at once, to mingle with spectators, to participate in a social ritual, while projecting his actions into the exhibition space.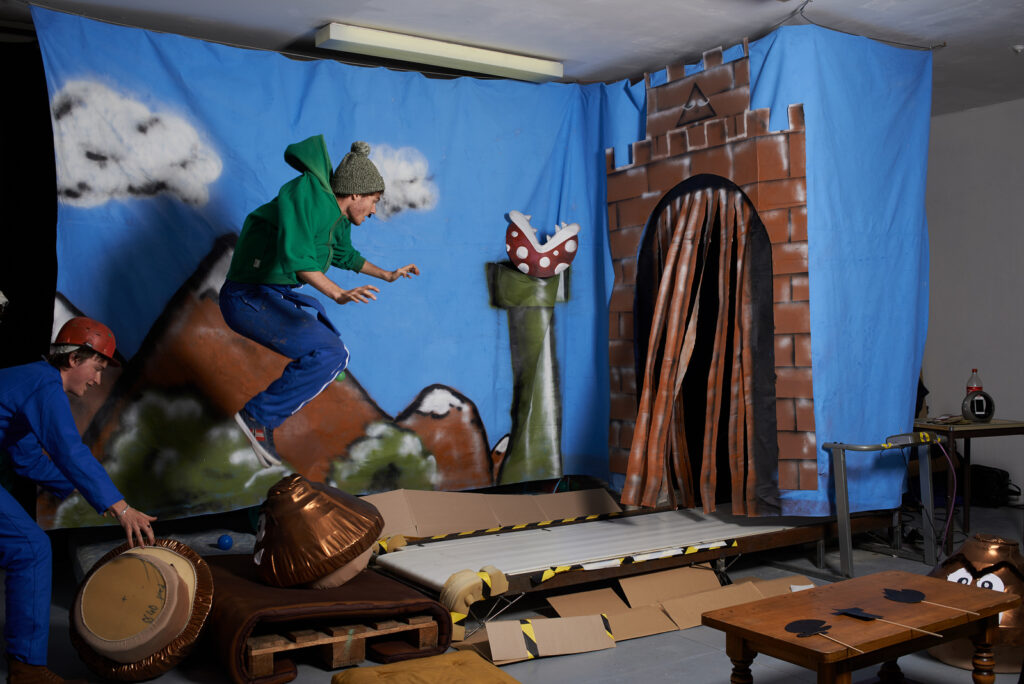 Mario IRL by students of ESAAix, step into the shoes of the famous plumber himself with Mario Theatrical, a video game experience that puts you right in the action. In this immersive adventure, you must jump over obstacles that come hurtling towards you on a modified treadmill. It's an exhilarating experience that will have you on the edge of your seat, as you dodge and weave your way through the challenges just like Mario himself. So what are you waiting for? Jump into the game and join the fun!
Helmetron by Alexandre saunier, Helmetron is a light and sound computer instrument. We dive into the very heart of the machine and experience its data flows. We are stimulated by the files read and transformed into light and sound. This immersive device breaks the barrier of traditional interfaces to create an organic link between the viewer and the digital processes of the computer.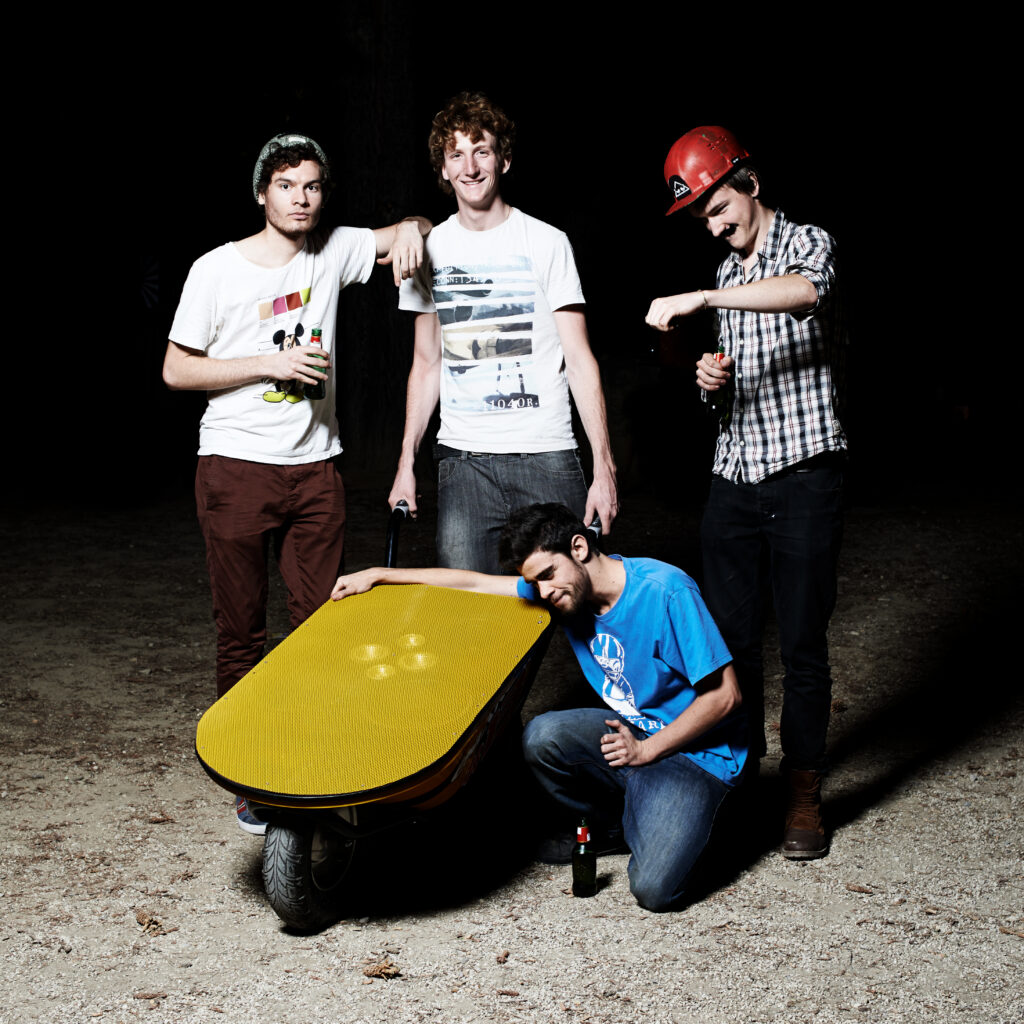 Brouette Tunée by Maxime Berthou A.K.A Mr Moo, a tuned wheelbarrow with a lowered wheel and a large sound system inside.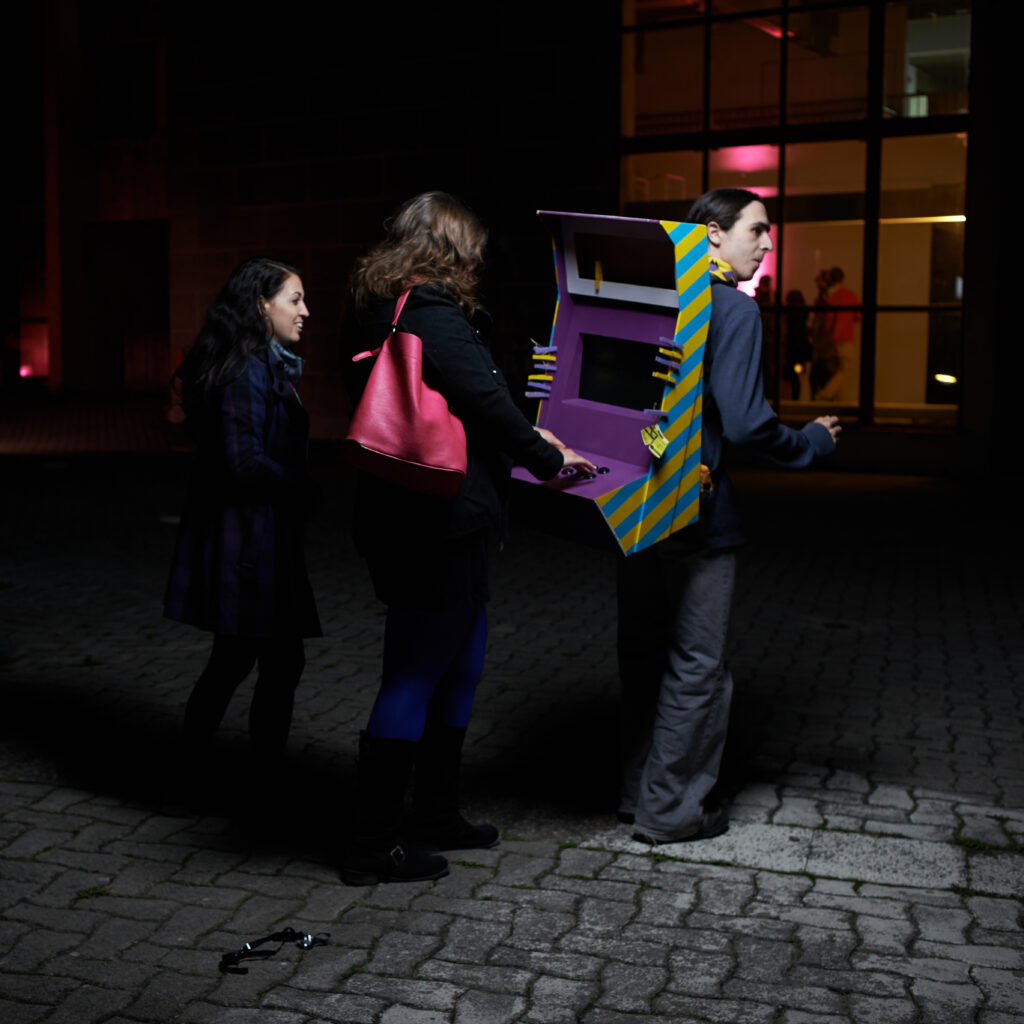 Arcade back pack by David Elliott, Steven Amrhein, Eddo Stern, Tyler Stefanich, Jen Agosta and Alex Rickett, was created initially as a mechanism to infiltrate public spaces, festivals, and exhibitions and engage audiences with game art projects from our UCLA Game Lab. Ironically, the backpack's debut at the 2nd Annual UCLA Game Art Festival at the Hammer Museum was so successful in infiltrating our own event that it stole the show and has become the most popular above ground game lab project.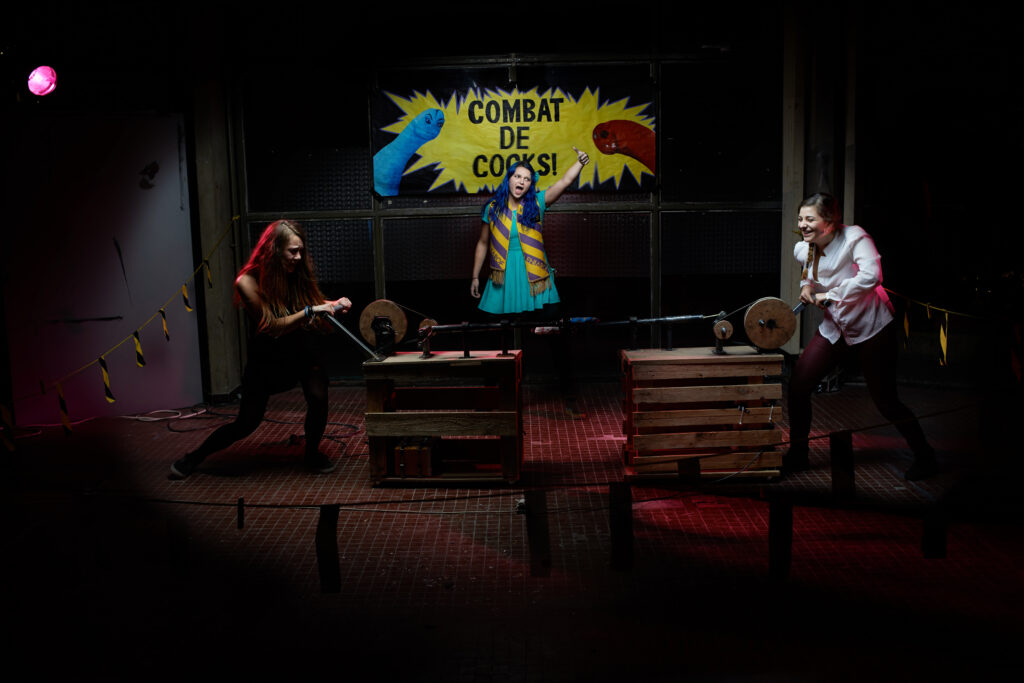 Combat de cocks by Sarah Deblonde Diane-Aïda Jureidini Natacha Juhot and Sébastien Arrighi, duel at the controls of a fucking machine and clay dildo. Get ready to charge into battle and destroy your opponents with this one-of-a-kind jousting experience. No longer bound by the limitations of traditional steeds and weapons, this futuristic jousting extravaganza will have you on the edge of your seat as you battle it out for glory and honor. So come on down and join the jousting revolution today!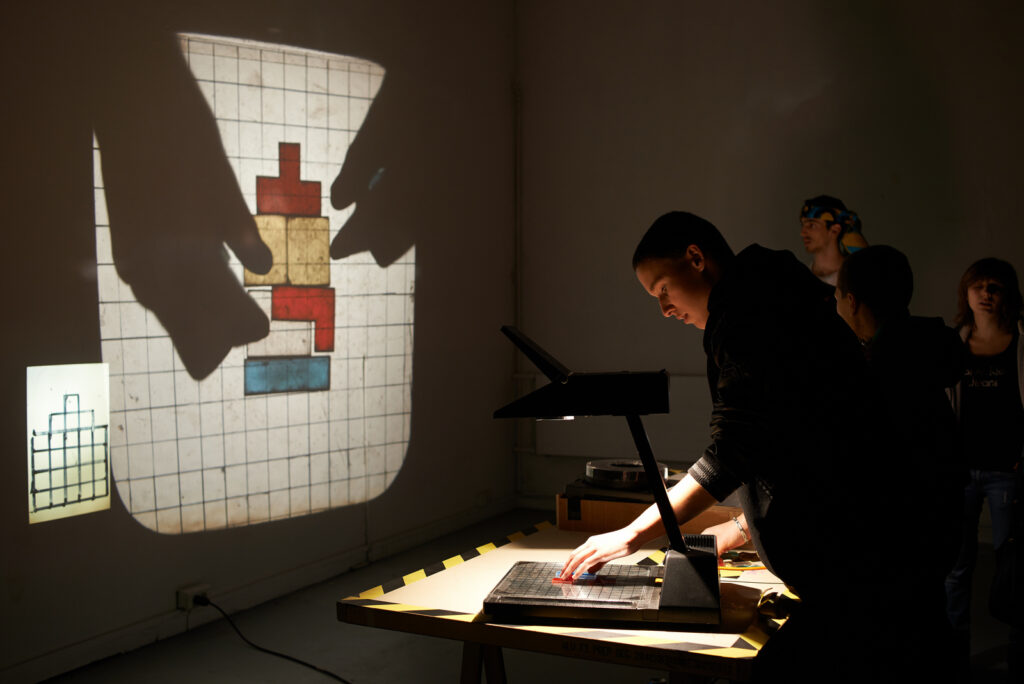 Retro Tetris by Thomas Molles and Kent Robinson, uses the good old overhead projector to play Tetris. In other words, it's the kind of game we could have invented during our college detention hours. As in the original version at the Russian Academy of sciences of Russia (1984), it is a game of assembly of geometrical shapes that you have to compose as quickly as possible.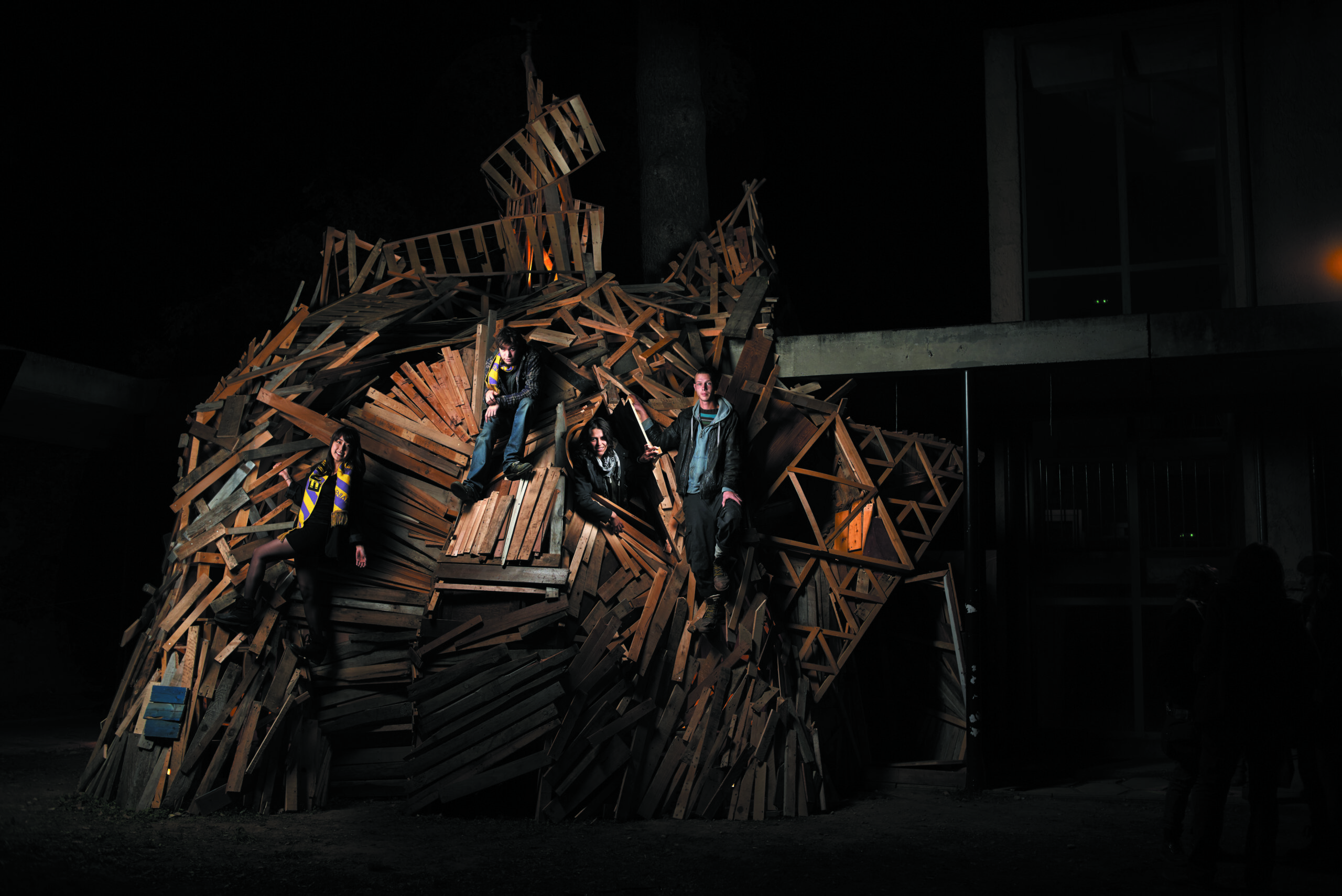 The temple by Manu Morvan, A temple made entirely out of reclaimed wood from pallets and other discarded materials has been masterfully arranged to create an intimate karaoke experience inside.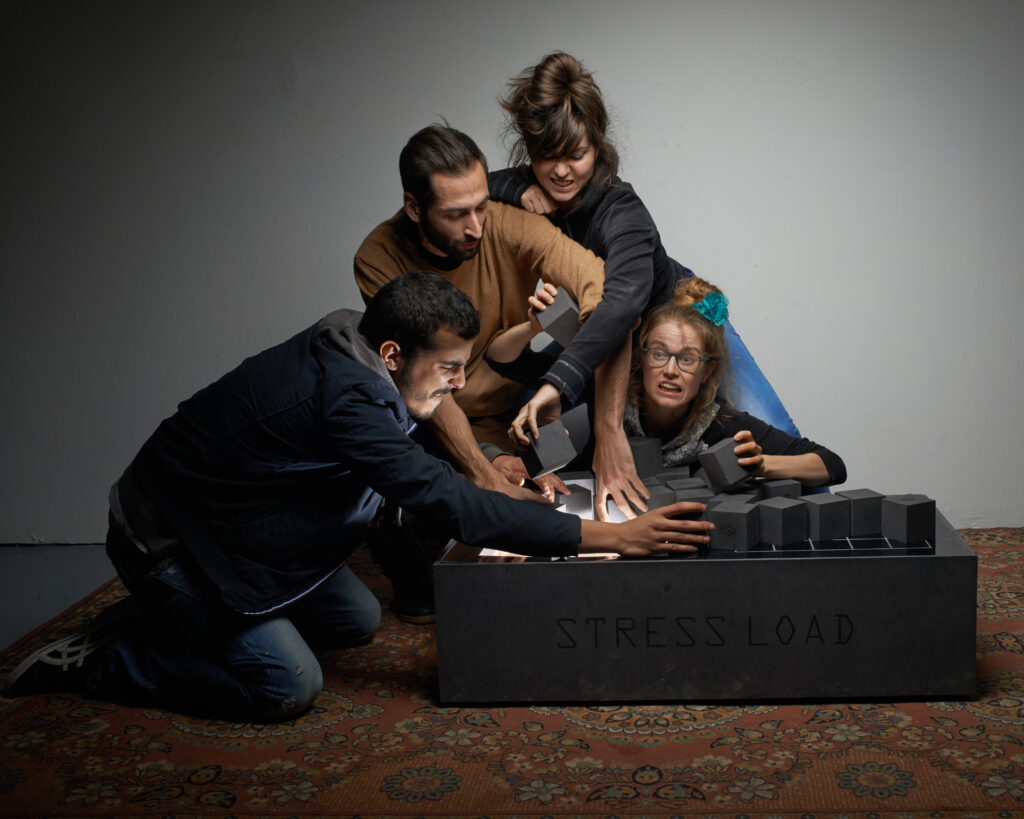 All the Retrocompatible projects made by the students of HEAD Geneva, a series of prototypes of models and games revisit, in an inventive and sometimes critical or even ironic way, important themes in the history of game design.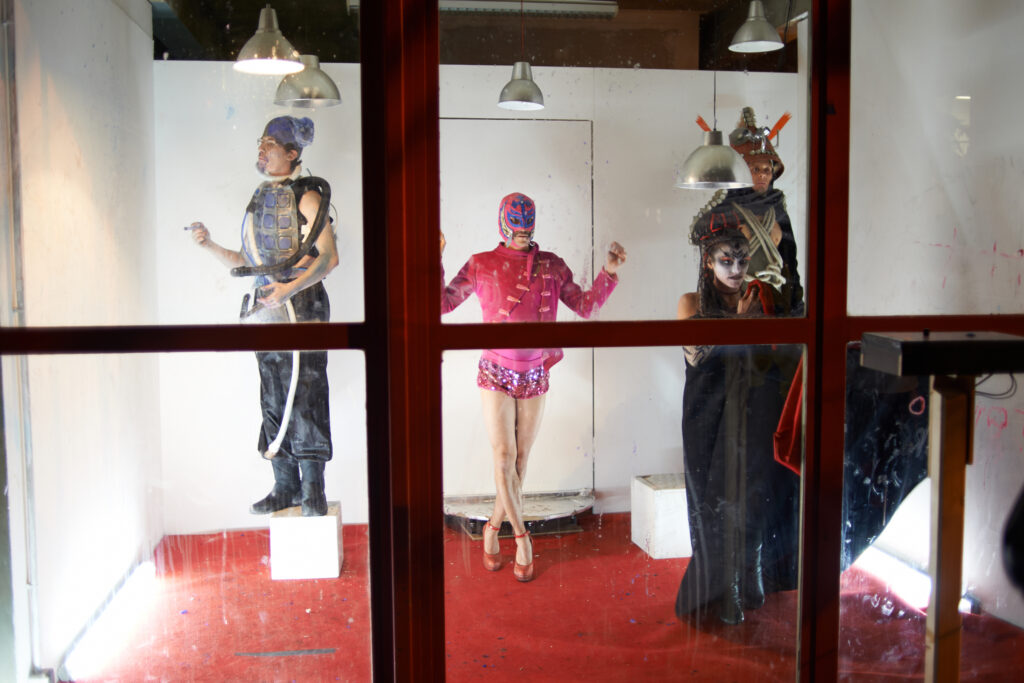 VERSUS by students of FAI-AR, step into the ring with our one-of-a-kind IRL combat video game, where visitors mount an exercise bike to control their avatars. To communicate with their character, they must pedal and increase the volume, allowing their avatar to hear the instructions sent when they press buttons located on the bike frame. It's a thrilling experience that puts you right in the center of the action, where you can face off against opponents such as the poop-breasted lady, the Siamese football supporters, or the sleepwalking numismatist. So what are you waiting for? Hop on the bike and get ready to battle it out like never before!
And many other attractions!