6 March 2010 / Kontact sonoreS / Châlon-sur-Sâon – France
List of guest artists : Florent Deloison, Manuel Braun, Antonin Fourneau, Onur Sonmez, Tim Devine, Pablo, Aya, Bastien Vacherand, Loïc Horellou and Djeff Regottaz.
On the invitation of Julia Drouhin, Tania Buisse, and Simon Drouhin, the team who manages the electronic music festival Kontact SonoreS in partnership with Nicéphore Cité and La Péniche in Chalon-sur-Saône, the Eniarof team was entrusted with the mission of setting the mood in La Péniche during a colorful evening.
It was on this occasion that the cream of the Eniarof team, with their most proven attractions and a few new additions, rose to the challenge with:
Eggregor8 by Manuel Braun and Antonin Fourneau, try to imagine how to play Pacman but 8 players at the same time. nervous breakdown assured and spectacle guaranteed for the observers.
Super Tetris Adventure by Florent Deloison, imagine you had to play Tetris in typing mode instead of a joypad : to go to the left you have to type : L+E+F+T. Don't make any error.
Hyperolympic by Djeff Regottaz and Loic Horelliou, an old-school balance board used to play Track & Field by swaying on an unstable balance system.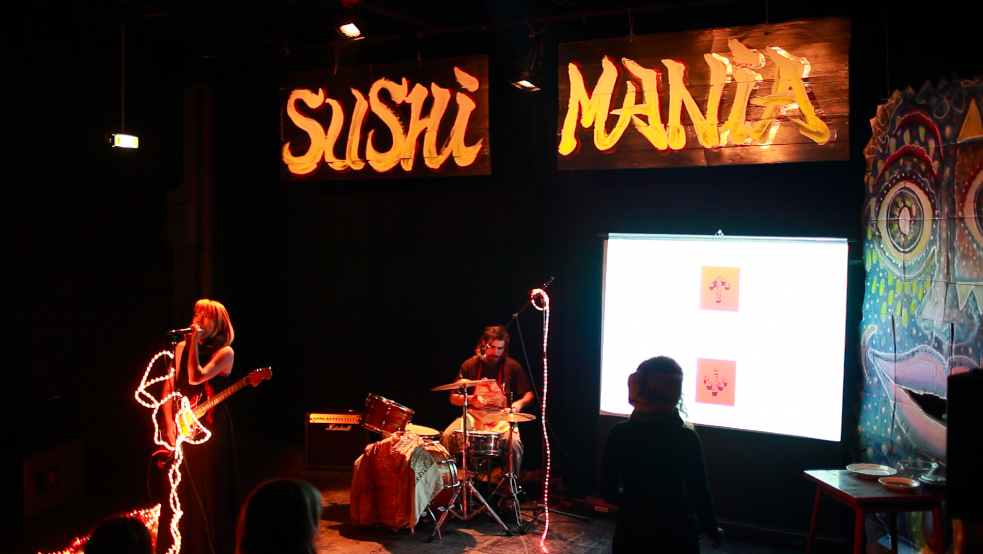 Sushimania by Aya, Pablo, and Bastien Vacherand, you'll be able to control a Japanese punk band using a dance mat and the better you are, the more sushi you get to see hurled out of a giant mouth. It's bizarre, it's wacky, and it's a rollercoaster of raw fish and rock n' roll!
Mexican Standoff by Onur Sonmez and Tim Devine, get ready for an intense showdown with our latest innovation – a Mexican Standoff where two individuals use their minds, via EEG headsets, to fire their guns in an ultra-violent first-person shooter (FPS). But here's the catch: to trigger the EEG interface, the person needs to relax, and once detected, the avatar will start shooting the other. It's a battle of wits and relaxation like never before!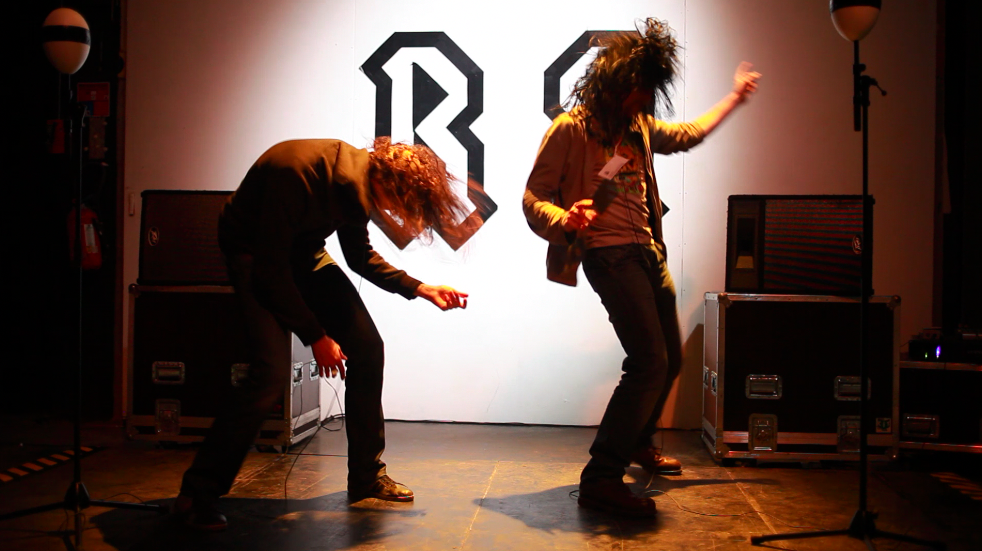 RR by Antonin Fourneau, the stage that turns you into a headbanging maniac! Just throw on a wig, start headbanging, and watch as the hard rock gets louder and louder. It's like Guitar Hero, but without the plastic instruments – just a pure furry controller !