21st to 24th June 2018 / A.K.A Malakoniarof – La Treso / Malakoff – France
List of guest artists : Antonin Fourneau, Kati Hyyppä, Niklas Roy, Thomas Molles, Felix Fisgus, Xavier Girard, Lucile Heurtevin, Jérémie Cortial and Jason Cook.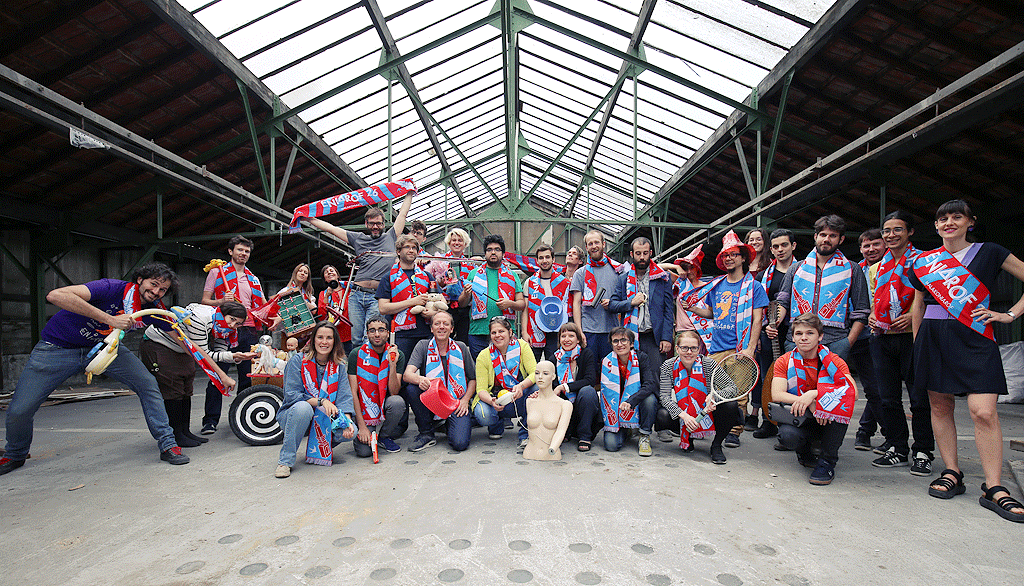 The city of Malakoff organized an event called "Malakoff en fête" from June 21 to 24, 2018. The event featured the 26th Eniarof which was proposed by Décalab to the association Le Studio Décalé. The theme of the event was "Links" and several local associations participated in the festival. The event, called "Malakoniarof," featured 20 attractions combining electronics, digital and unusual objects found at La Ressourcerie de Malakoff, and was presented to the public in three locations: La Tréso, La Ressourcerie, and The Atelier de Curiosité Urbaine. During the 4-day event, students of art (EESI School, EnsAD School and ESAAix School) and the computer school 42 worked under the supervision of the artists to create the attractions.
8 new attractions were created as a result of collaborations between students, associations, artists, and local residents :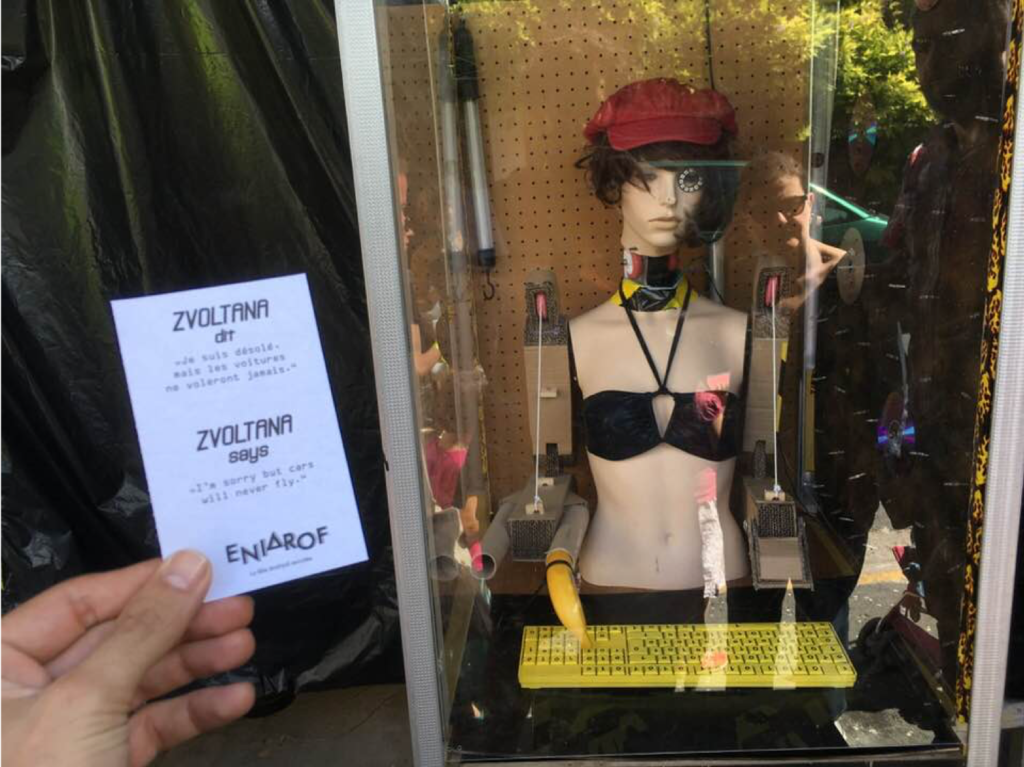 Zvoltana Cyberniarof / The Unfortune Teller by Catherine Villeret, Danaël Valbert, Dustin Sherman and Mouhssine Mouni, experience the thrill of the Misadventure Teller! This charming attraction will reveal your future through sarcastic messages printed on little receipts. Don't expect to hear about fame and fortune though, as the Misadventure Teller is known to deliver messages like "Sorry, it's almost 2020 and cars still can't fly". Come and see for yourself, and let the Misadventure Teller guide you through the ups and downs of your fate with a humorous twist.
J'ai Faim by Kati Hyyppä and Niklas Roy, "J'ai faim!" is French for "I'm hungry!". It is a mechatronic game that deals with eating. Just like Barbie, we here in Europe live an excessively luxurious life where there is no lack of food – quite the contrary. Yet extra calories seem like a sin and many aspire for an unnaturally slender figure in the hope of looking more attractive. Considering how many people actually have to struggle for their daily nourishment, this seems bizarre. "J'ai faim!" is all about making Barbie to eat more and be happy about food. If she doesn't keep eating, the game is over.
Soccair by Paul Gaston, Eva Houzard, Gildas Hery and Colin Bouvry, a game that combines elements of ping pong and babyfoot, but with a twist: instead of a traditional paddle, players use a hair dryer to hit the ball.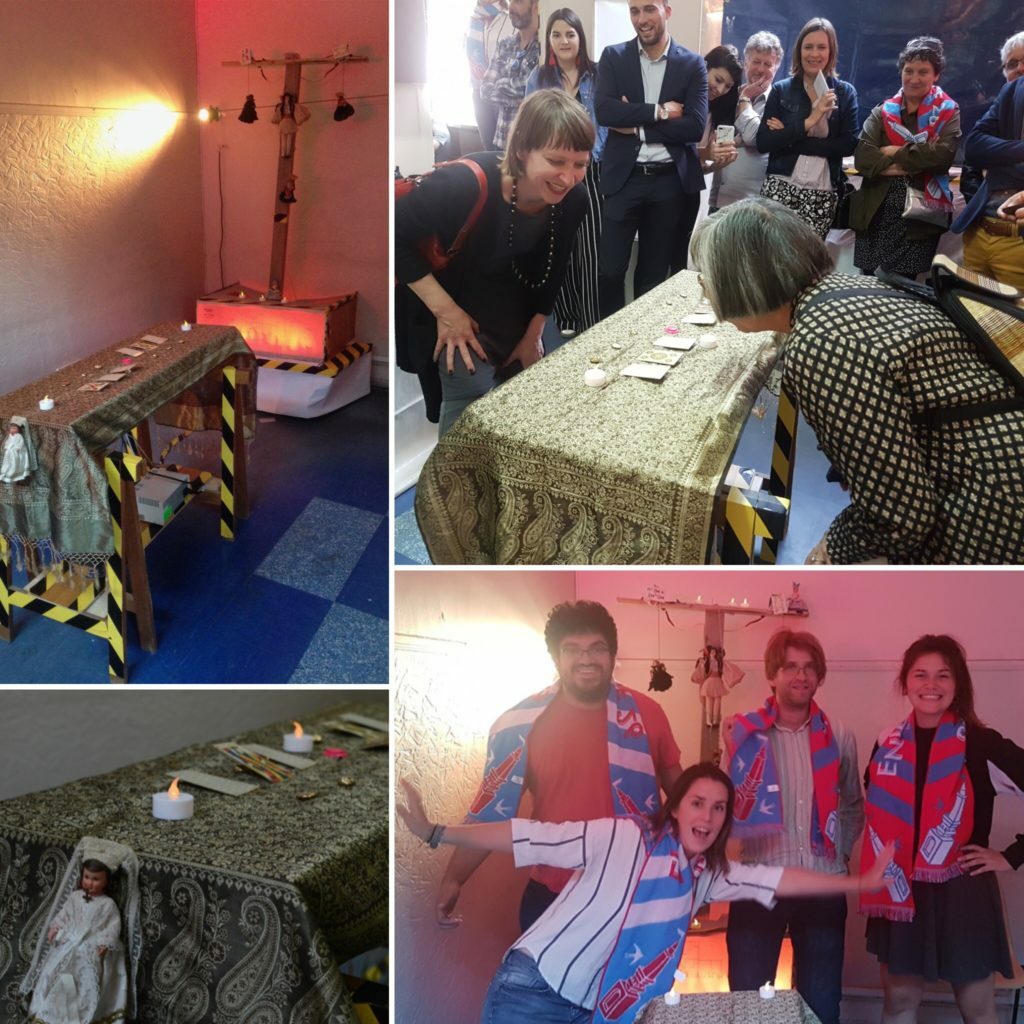 Which Witch by Alexandre Netchaieff, Timothée Mohr, Bérénice de Castéja and Lola Dubus, You have to blow on tarot cards to flip them over, but the player across from you must do the same. Whoever has the most cards flipped over on their side has their witch descending towards the burning stake.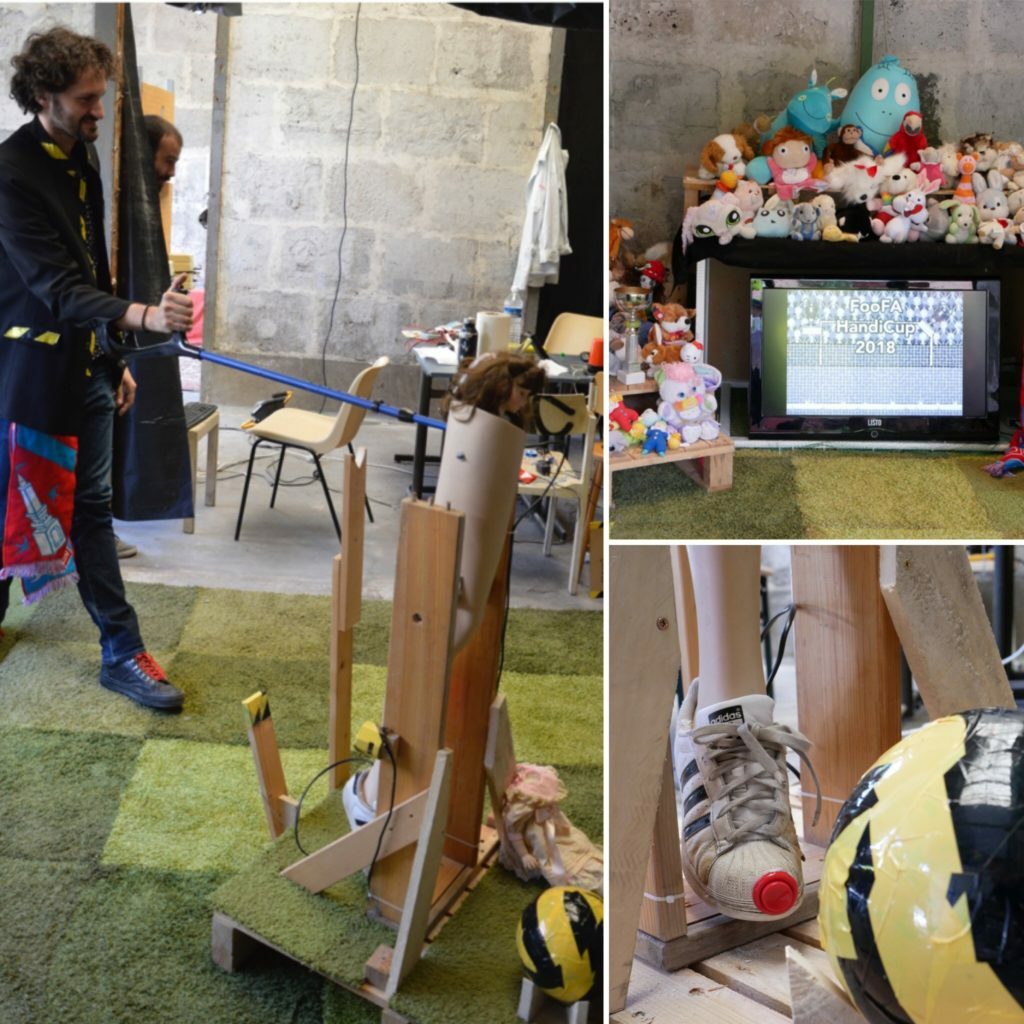 Foofa Handicup an attraction created by Felix Pankraz and Thomas Molles.
Kwisatz Haderach Tattoo by Hervé Jolly and Sophie Daste, a video game experience inspired by the universe of Frank Herbert's Dune, where sandworms come to life on the freshly tattooed arms of two players who physically and morally face off in a duel whose rules are kept secret by the black box of the Gom Jabbar, which will designate the chosen one, the Kwisatz Haderach, in its heart.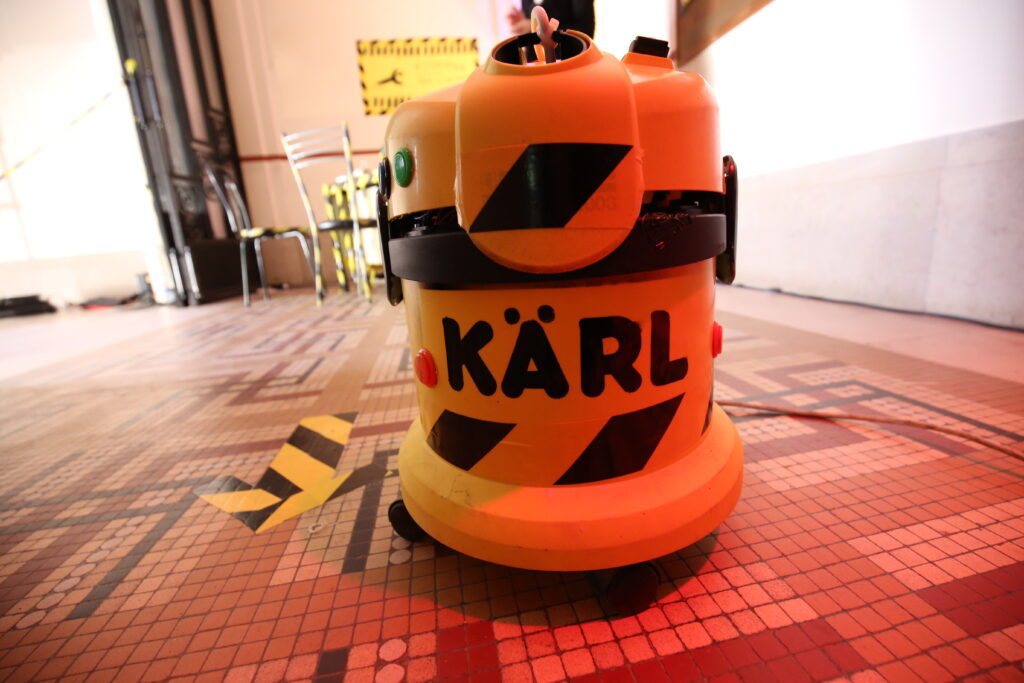 KÄRL by Florian Madura, Paul Kessel, Clément Barbisan and Chloé Desmoineaux, a Tamagotchi-like spirit downloaded into the body of a vacuum cleaner. If no one interacts with him for 10 seconds, his happiness gauge, indicated by LED bars, will drain and he'll start screaming in despair. To remedy this, you can play with the buttons on his body or take him for a ride. His gauge will then refill for a limited time, and his satisfaction will be expressed by the movement of his tail. Try to silence him by pressing his off button, and you'll find an eerie resemblance to a certain extraterrestrial race called Daleks.
The public could also see previous Eniarof attractions that had been previously created by the guests artists :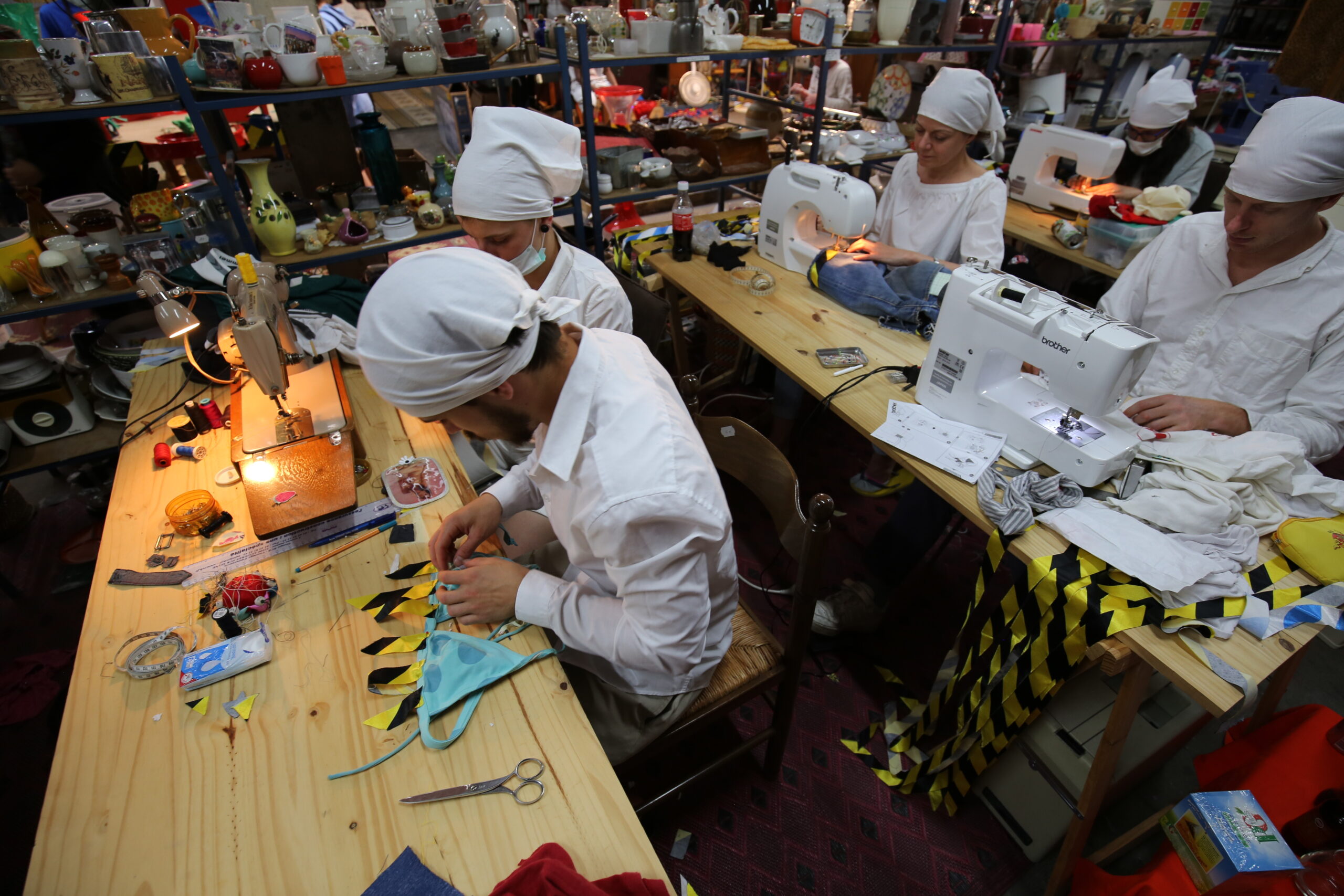 SweatshopNiarof by Lucile Heurtevin and Xavier Girard,
Bubble Blast by Niklas Roy, Bubble Blast is an electronic game for two players. Each player remotely controls a little vehicle, which has an inflated balloon attached to its back and a sharp needle attached to its front. The aim of the game is to pop the opponent's balloon while keeping one's own balloon intact.
Seduce the Train by Kati Hyyppä, a game of domesticating an electric train using interactive gloves.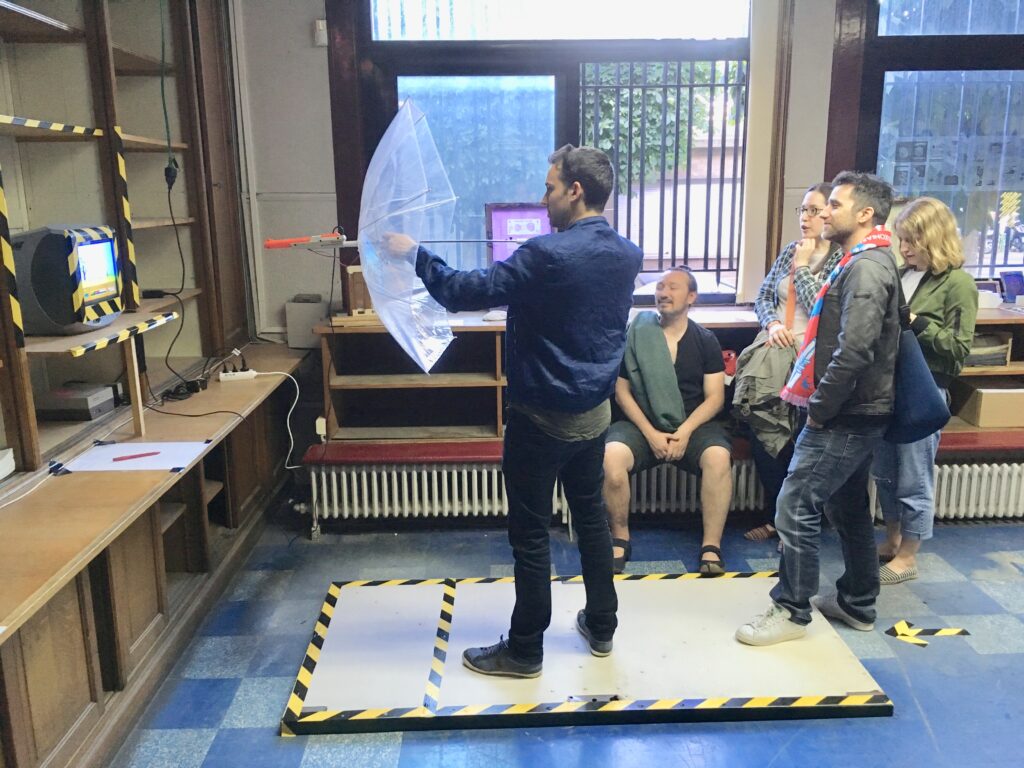 Shooting in the rain by Manuel Braun and Antonin Fourneau, the wondrous opportunity to partake in the pleasure of duck hunting, but with a most unconventional tool : an umbrella!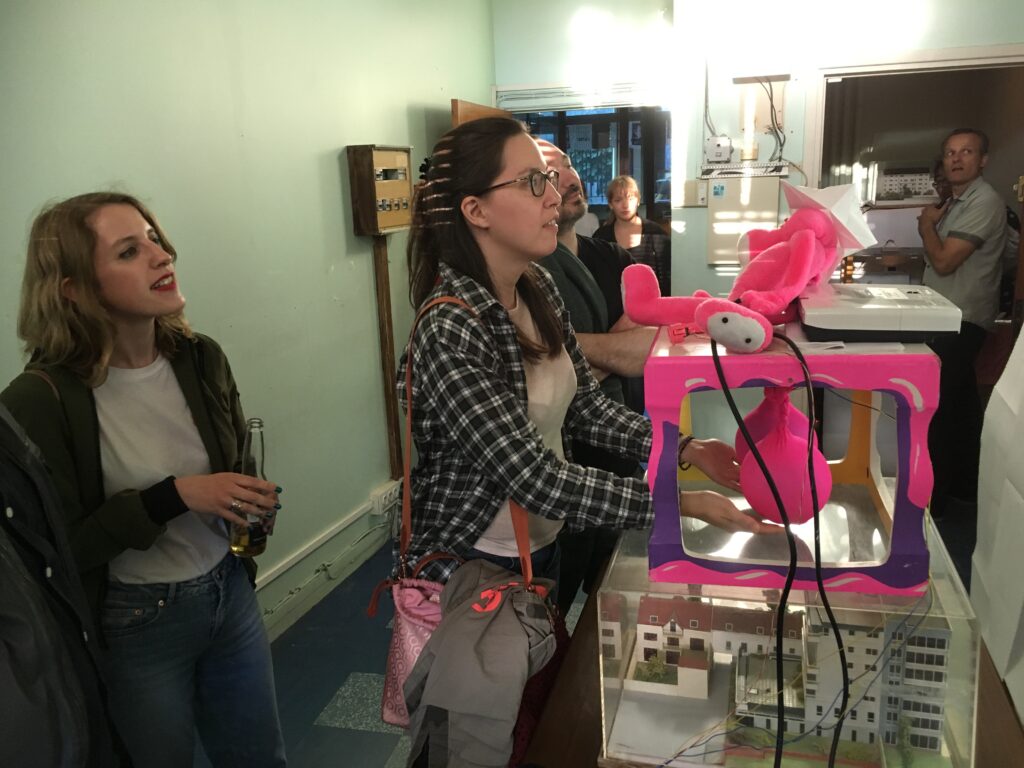 Hugeballs by Guofan Xiong and Pierre Emm, ou have two beautiful balls suspended in ambiguous shapes that control an arcade game. The objective is to prevent apricots, donuts, and eggplants from damaging the two spheres. Skillfully maneuvering the balls will allow you to spray them with cream for a more delicious experience.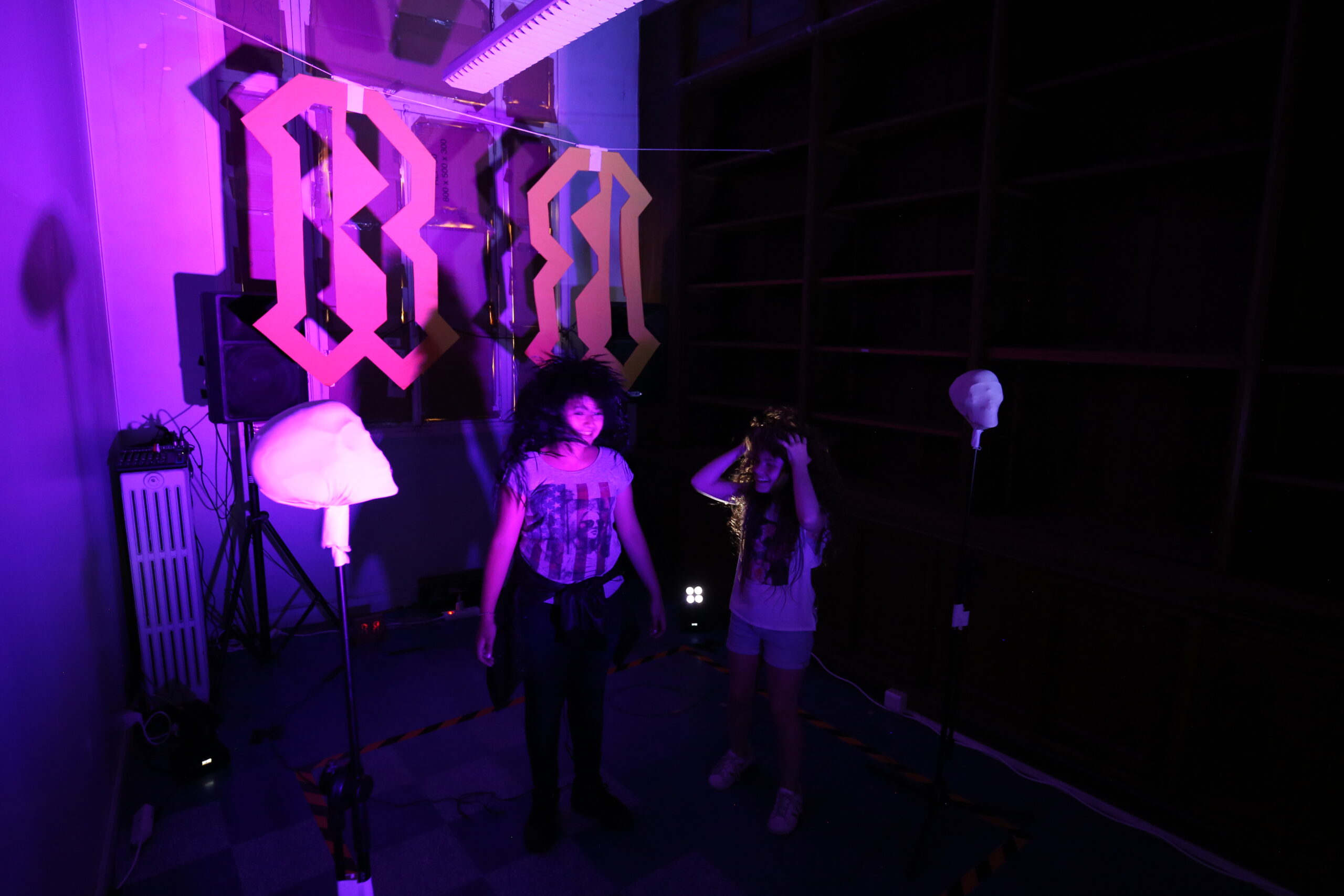 RR by Antonin Fourneau, Enter the world of head-banging simulation, where you're not just cranking up the volume on some hard rock tunes, but also in control of the light and fog machine. To play, you must don a wig and shake your head to pump up the energy. One wig controls the drums and vocals, while the other controls the guitar and bass. As you bang your head to the beat, the music gets louder and the light show gets more intense. It's a full-on sensory experience that will leave you feeling like a rock star. So grab your wig and get ready to rock out!
And the audience had also the opportunity to try the tasty Nato Bill Bank Tartine by Jérémie Cortial.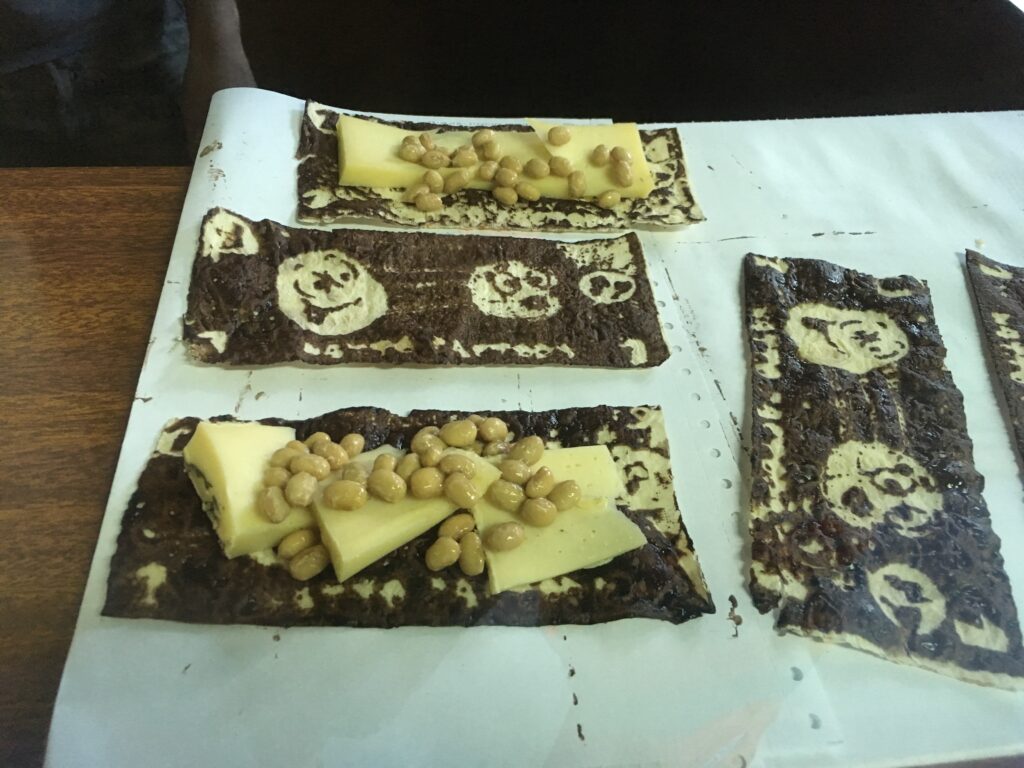 The Collectif OFNI had alsomake a special tuning of the fiesta truck in the Eniarof spirit to involve people to make party in the street.