1st to 3rd april 2016 / L'Entorse / Roubaix – France
List of guest artists : Manuel Braun, Thomas Molles, Xavier Girard and Philipe Coudert with a team of local tailor, Leslie Dorel and his cooker team, One life Remains, Antonin Fourneau, Chloé Desmoineaux, Manon Derain and a group of student of the art school of cambrai.
Invited at the Condition publique in Roubaix for the Printemps artistique et sportif by l'Entorse during 3 days from 1st to 3rd April, the Eniarof team embarked on the creation of a rather sporty version of Eniarof accompanied by a group of students. The students have designed during a workshop with Antonin Fourneau and Keyvane Alinaghi some arcades games machines that physically involve you in the game :
T'es ken by Arthur Gaillon, a modified version of Tekken where all the buttons are spread out on the cabinet itself.
T'es triste by Maxime Eloir, a Tetris game where players must also pay attention to moving elements that disrupt their field of vision.
Foot Circus 2600 by Julien Colmont and Axel Vergeot, a game that requires players to dance in order to play Circus on Atari 2600.
And the Eniarofers has proposed :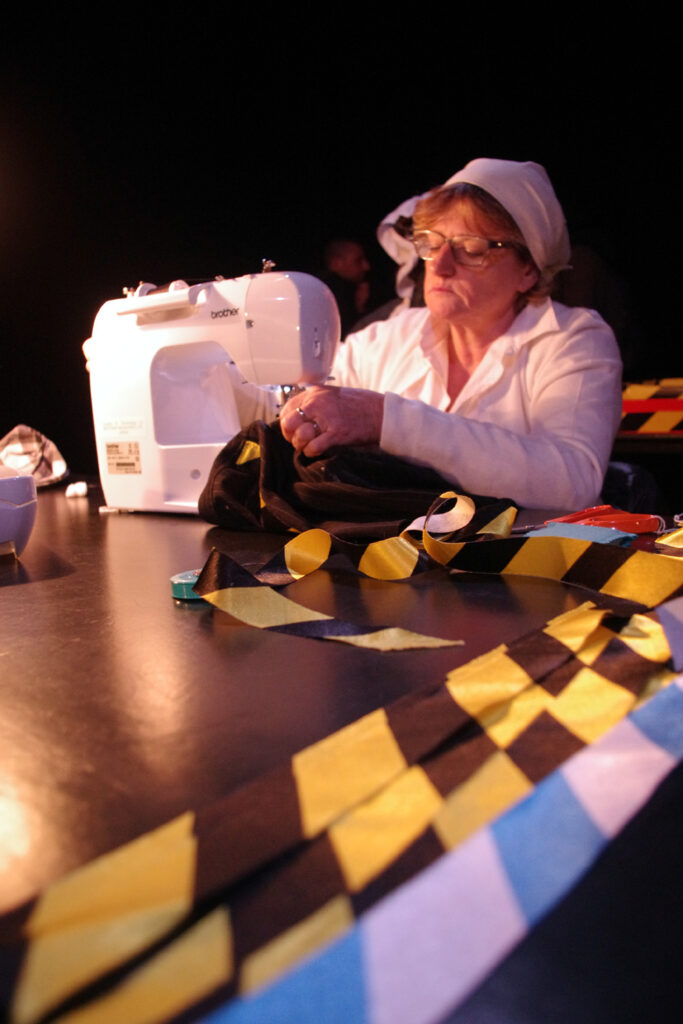 SweatshopNiarof by Lucile Heurtevin and Xavier Girard (and Philippe Coudert in guest), along with their talented team consisting of Caroline Byzalion (an artist and regular at Eniarof), Cécile Cluzan, Federica Terracina, Lucie Cluzan, Léa Fantoni, Alexis Chopin, Aurélie Delvingt, Claire Restiau, and Antoine Gatie. The Sweatshop team created a real factory for producing custom clothing using Eniarof's signature black and yellow caution tape. Visitors could choose a piece of clothing and with the help of the master tailor, have a custom-made Eniarof costume for free.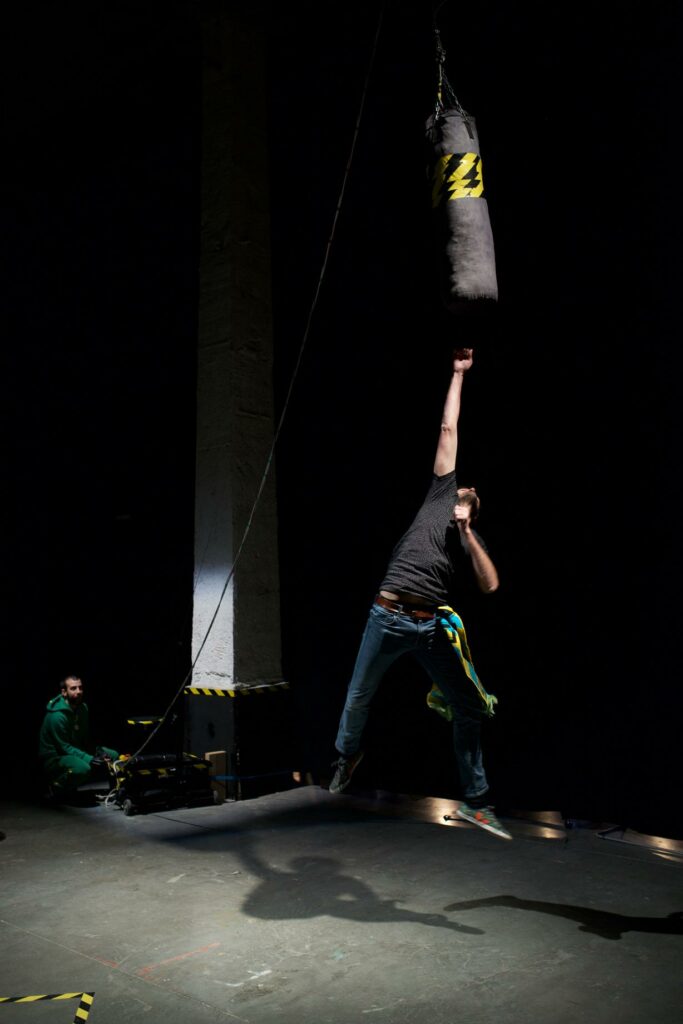 Piñatron by Thomas Molles, a new attraction that involves a punching bag that rises mechanically with each hit, with the distance traveled varying depending on the strength of the punch. The goal of the game is to be the last one to hit the bag.
RR by Antonin Fourneau, the iconic attraction that invites visitors to headbang to hard rock music.
Eggregor 8 and Spongegame, two attractions created by Manuel Braun and Antonin Fourneau, that are also bestsellers at Eniarof.
Food'o'thon by Leslie Dorel, which combines sports and colorful food. The program includes a series of challenges, including the famous sausage hoop.
SOTA by One Life Remains, which has been touring the world since its creation at Eniarof #13.
Sondez-vous! by Chloé Desmoineaux and Manon Derain, another creation from Eniarof #13, which has also been making its way around.