27th & 28th March 2009 / ESAAIX school / Aix-en-Provence – France
List of guest artists : Antonin Fourneau, Manuel Braun, Douglas Edric Stanley, Anna Chocola, TM, Nicolas Boone, Florent Deloison, the students of the art school of Aix-en-Provence ESAAIX and students from the art school of Toulouse ISDAT .
Eniarof is making a strong comeback for its third edition at the Aix-en-Provence art school, where the project was born, after successfully completing its first edition outside of France in Slovenia and demonstrating its effectiveness at the Emergence Festival in Paris for the second time. Antonin, who conducted a workshop with students from the Toulouse art school ISDAT a few months ago, has invited a delegation of 20 students from Toulouse to the event. He has also invited the artist Nicolas Boone to lead a cinema creation workshop focused on zombie movies. As a result, about thirty attractions are being presented at the event, including some former Eniarofers who were already present at Eniarof#4.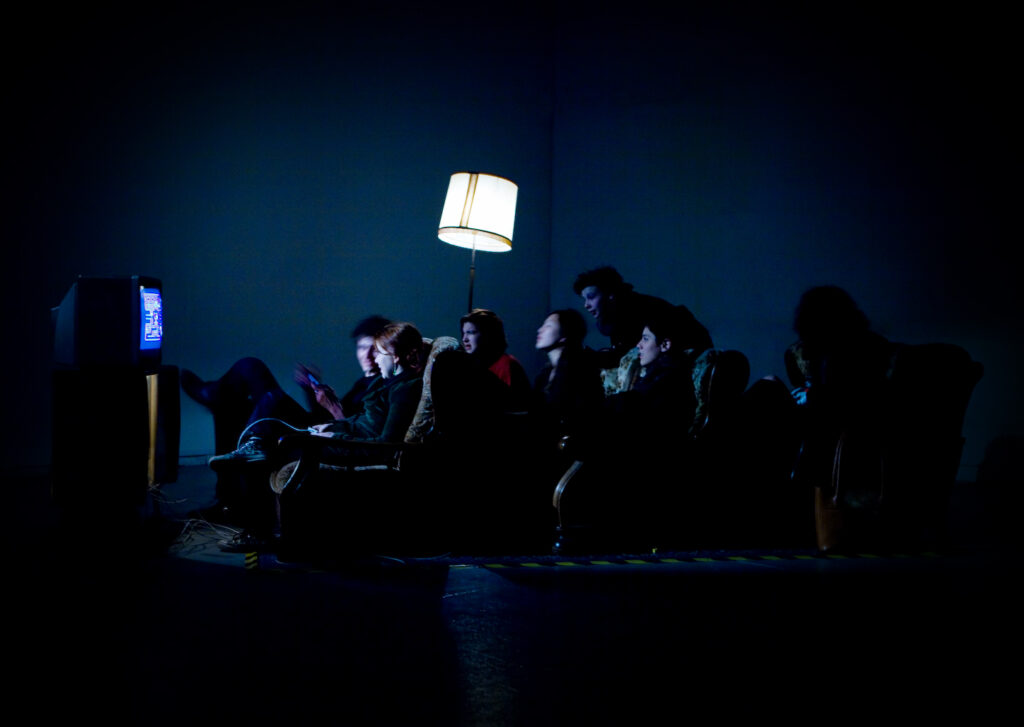 Eggregor8 by Manuel Braun and Antonin Fourneau, it makes its first appearance, the beginning of a long series. Try to imagine how to play Pacman but 8 players at the same time.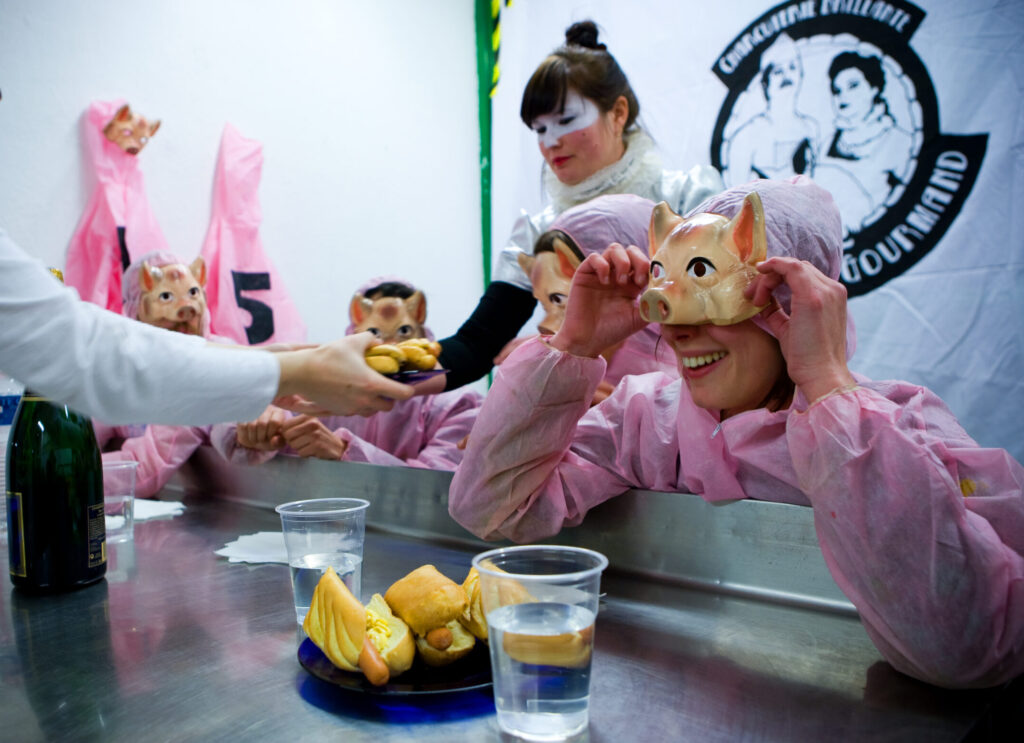 La charcuterie Brillante by Anna Chocola and TM, after having tested the appetite of the Slovenes comes to delight the French appetites. The team is always so well dressed in rhinestones and sequins.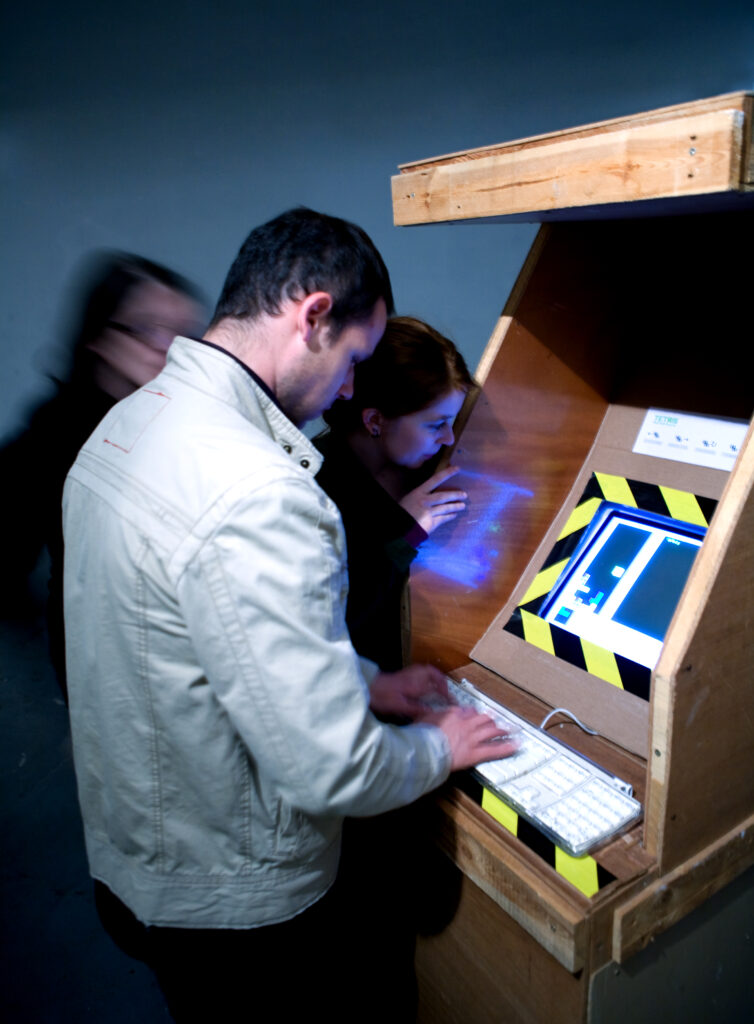 Super Tetris Adventure by Florent Deloison, a few months away from graduating Florent Deloison offers us one of Eniarof's attractions which will feature on many future editions. A simple and catchy concept: imagine you had to play Tetris in typing mode instead of a joypad.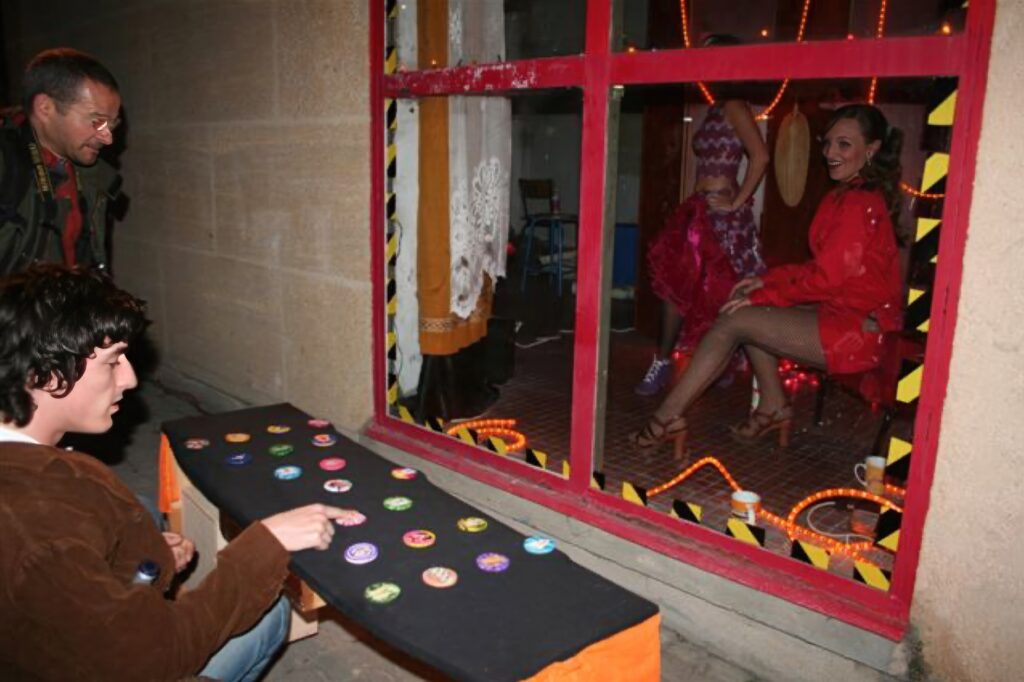 The dance Jukeboxe by Morgane Rubuffat and Lou Feraud, the public could sit behind a desk facing a window. on the desk a whole bunch of buttons allowed to launch music on which the two dancers had to caller each other, sometimes chaining to an exhausting rhythm.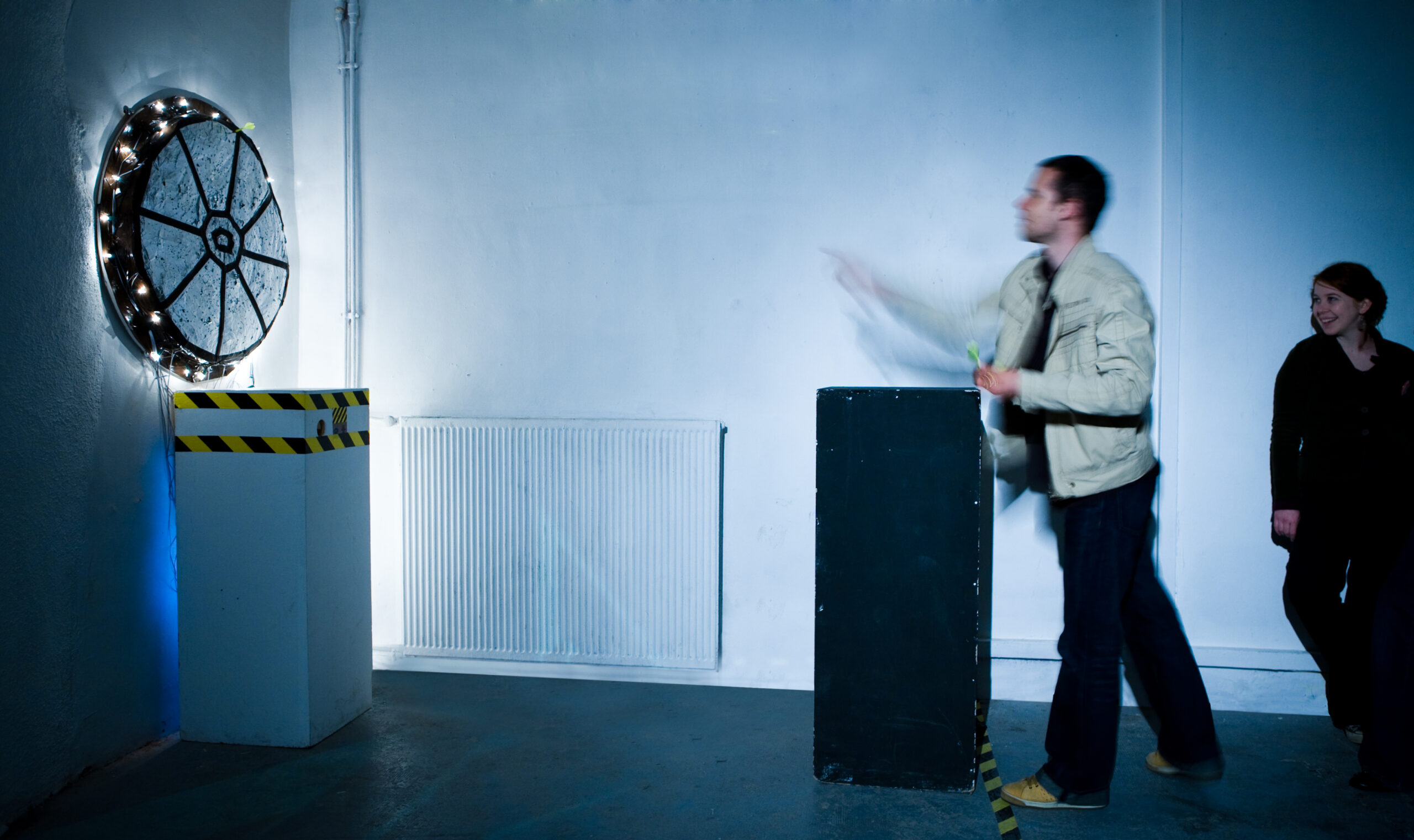 Dart Rock&Roll by Julian Brossat-Cataldo, a dartboard entirely handcrafted by assembling layers of foam and aluminum foil thus became interactive and allowed to make a mashup of your favorite rock songs while playing.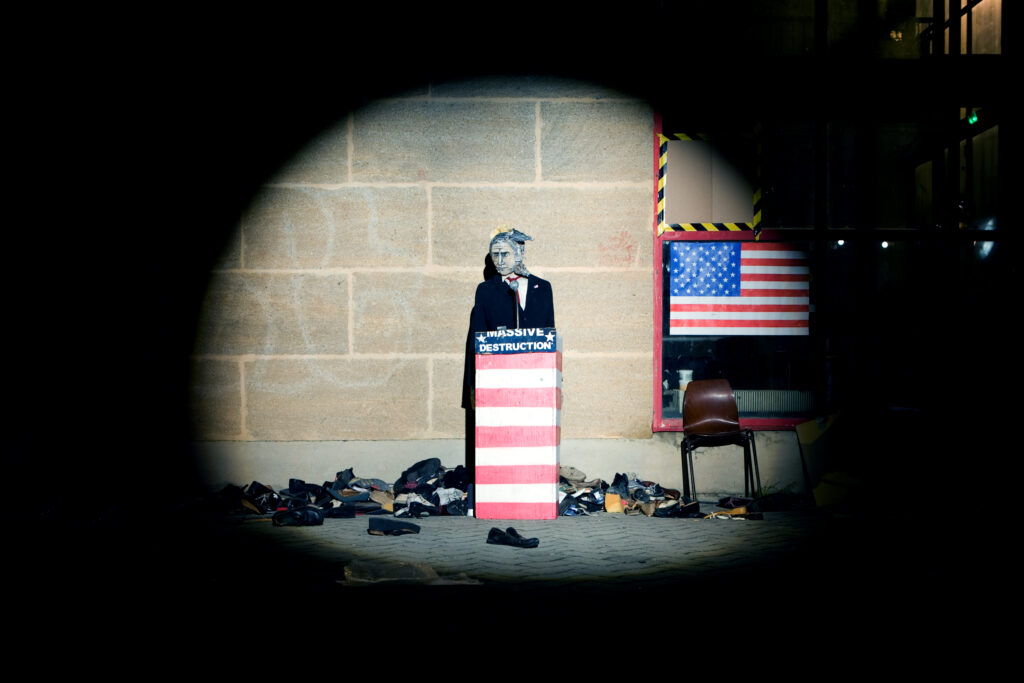 Busherie by Julien Ferrato and Morgane Guiard, in homage to this great moment of TV, this attraction invites you to relive the scene by also trying your chance.
Chaisemania by Filioleata Florence, Khayi Jawad and Coralie Alazet, the Stepmania game with chairs instead of a dance pad.
Sushimania by Aya, Pablo and Bastien Vacherand, you can control a Japanese punk band using a dance mat, and your score determines the amount of sushi that gets vomited by a giant mouth. It's weird !
And so many other attractions made by students like a DiY Human BabyFoot, A snail run in cosplaying with a slippery track, a Chewing Gum tree, a giant Super Nintendo pad, turning chocolate on a pottery wheel…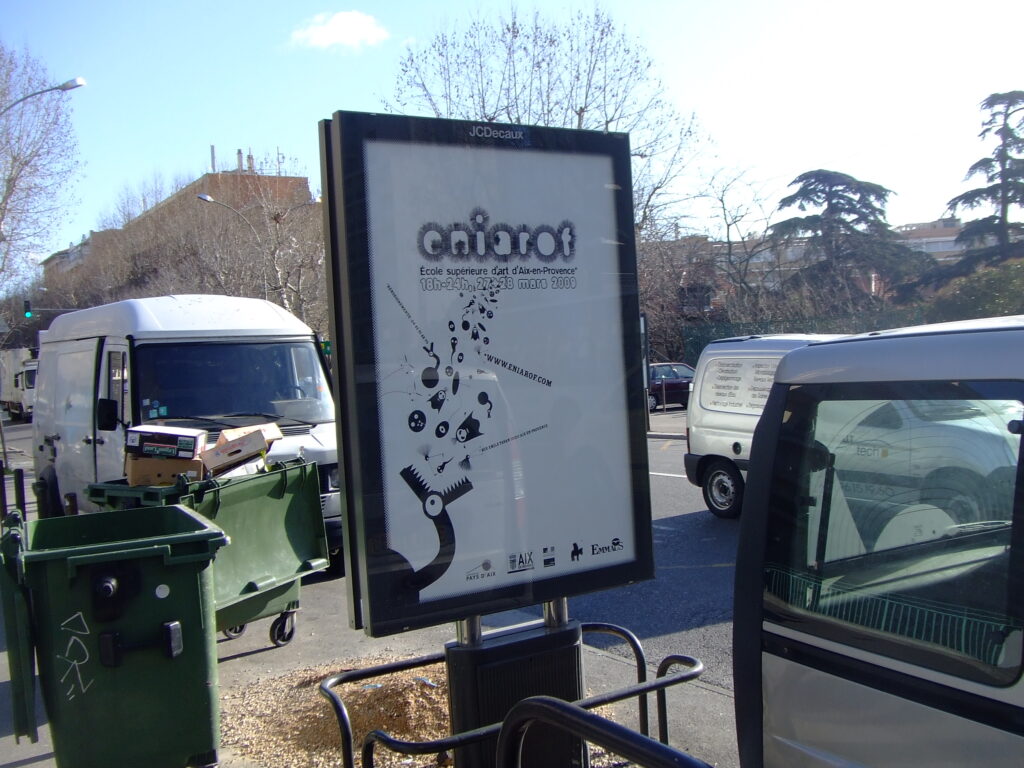 Also the Poster of the event was the result of a Processing workshop where all the monsters were created by code.