4th September 2021 / FAN (Fabrique Artistique et Numérique) / Rosny-sous-Bois – France
List of guest artists : Tatiana Vilela dos Santos, Olivier Drouet, Bertrand Planes, Sophie DASTE, Antonin Fourneau, Thomas Molles, Manuel Braun, Jérémie Cortial 'Chienpo' and Paul Gaston
In 2022, Antonin completed an artistic residency at FAN (Fabrique Artistique et Numérique) in Rosny-sous-Bois, where he worked with middle school students to build a mini-golf course using recycled materials. Following this successful experience, FAN invited him to organize an Eniarof for their open house event in September 2021. Antonin assembled a small team, including former Eniarof participant Paul Gaston, who was a student in 2013 during Eniarof#13, as well as newcomers Tatiana Vilela Dos Santos, Olivier Drouet, and Bertrand Planes, who had already been working on similar projects. The theme of this Eniarof was centered around the idea of reimagining non-abdominal sports.
Seven new attractions were created specifically for this Eniarof event, including:
Pied de bébé by Tatiana Vilela Dos Santos and Olivier Drouet, a Monty Python-inspired game of table football made up of graphic collages and special moves like the attack of a T-Rex dragon that burns the feet and temporarily immobilizes your opponent.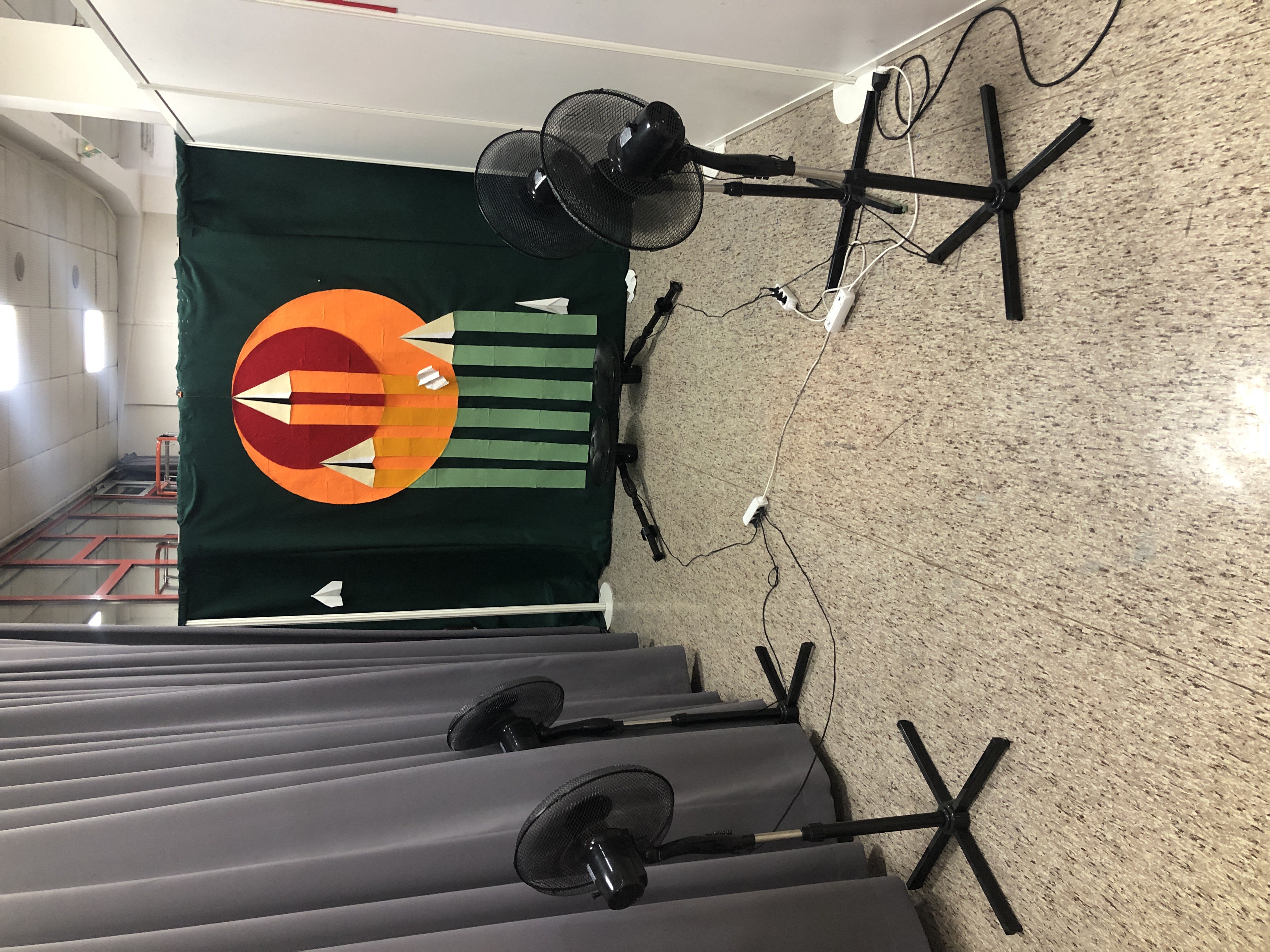 Fanfair by Sophie Daste, mixing paper airplanes and darts with the constraint of having to play against a wall of fans that sweep the playing field.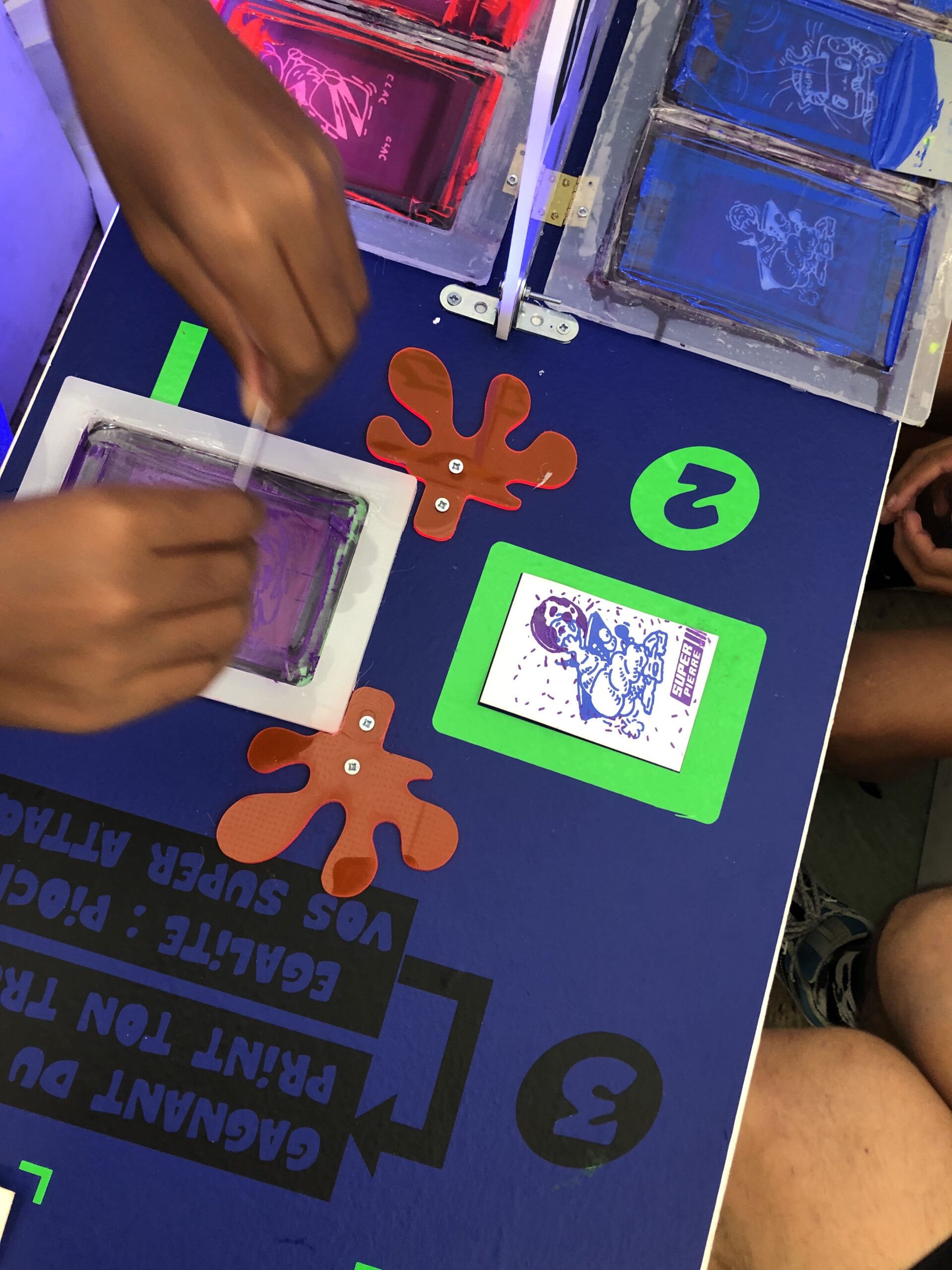 PrintFighter by Jérémie Cortial, a rock-paper-scissors game based on cards that are screen-printed directly while playing thanks to a small frame device on the game board.
Pink vs Blue by Bertrand Planes, using the principles of old arcade games where you frantically press a button but in a futuristic and laser style of a new kind.
Eniagolf by Antonin Fourneau, a mini-golf made of recycled elements as previously explained.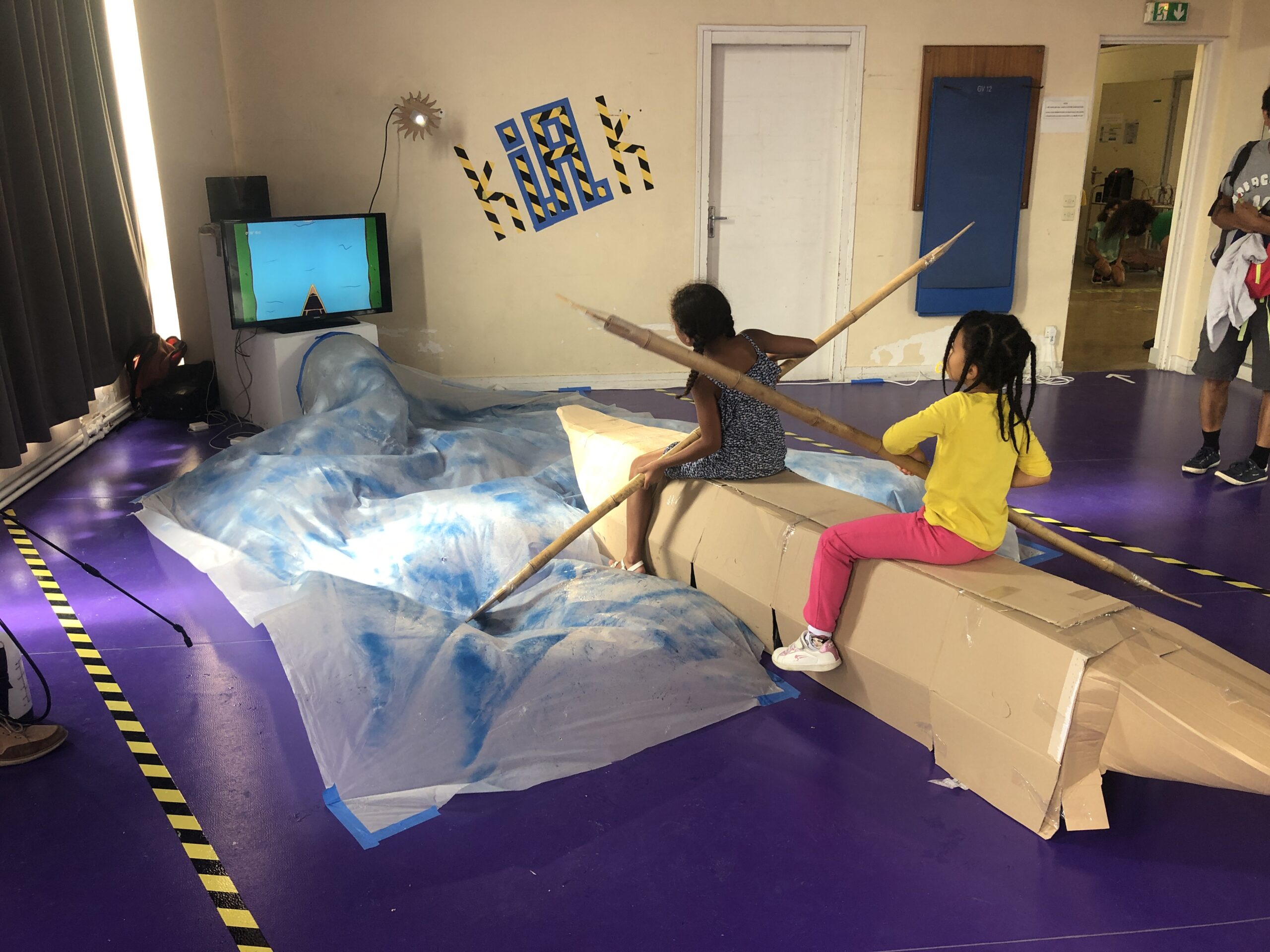 KIAK by Paul Gaston and Thomas Molles, a kayak simulator using AI to detect players' behavior and movements.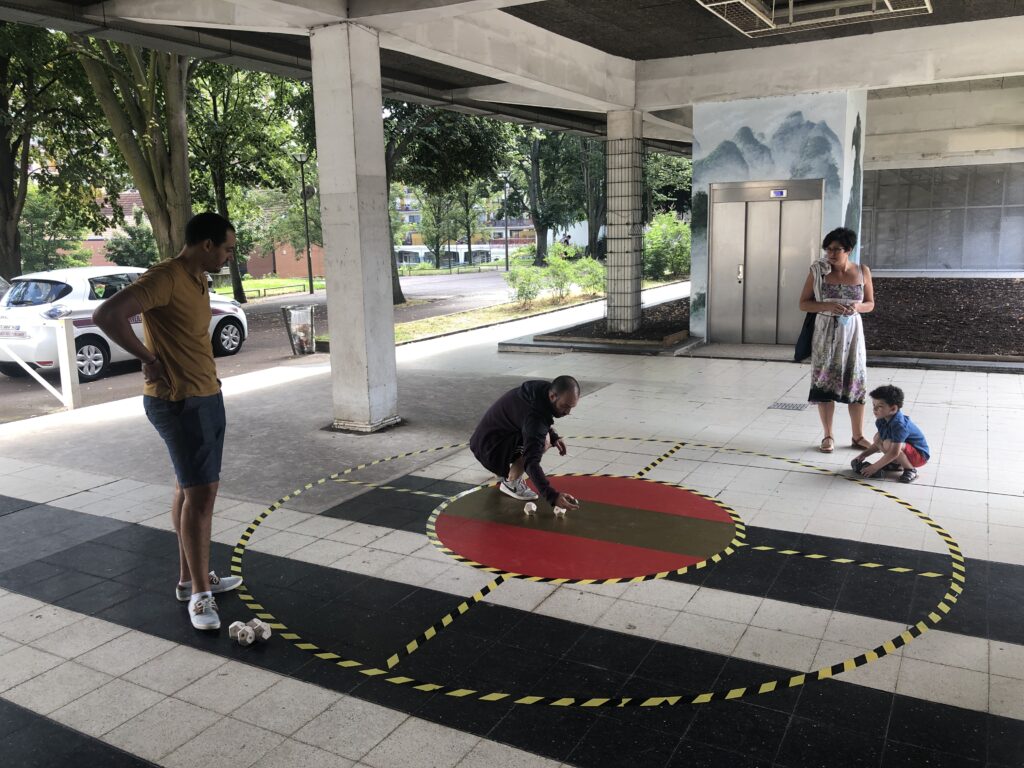 La Pègue by Thomas Molles, a game of boules revisited with magnets and therefore new rules. "Pèguer" in Marseille dialect means "sticky".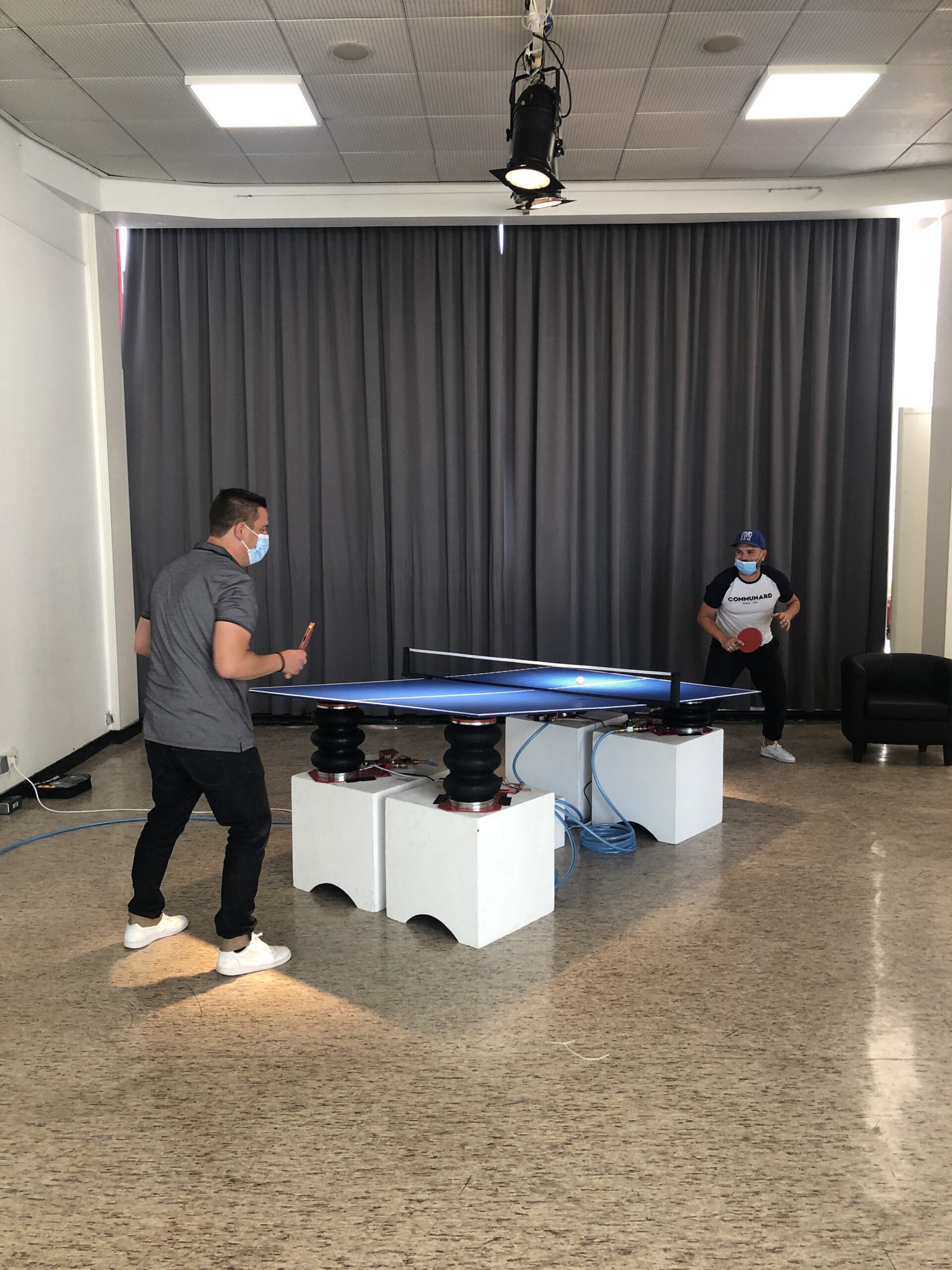 Metapong XP1 and XP2 by Manuel Braun and Antonin Fourneau, a series of modified Ping Pong tables, one with a constantly rising and falling net and the other with the table fully mounted on a pneumatic car jack giving it formidable inclinations in the middle of the game.