30th November to 3rd December 2017 / EFEST festival – Abdelia Palace / La Marsa – Tunisia
List of guest artists : Niklas Roy, Kati Hyyppä, Mehdi Hadjsassi, Sophie Daste, Jérémie Cortial, Roman Miletitch, Mehdi Hadj Sassi, Antonin Fourneau, Louis Anglionin, Thomas Molles, Daniel Plata, Pierre Emm et Guofan Xiong, Maike Effenberg, Lena Zwerina, Felix Fisgus and Maestro Piveta, Malek Hedhly, Samy Kefy, Oussama Menchaoui, Samy Kefy and Hiba Chamekh.
Coordination : Afif Riahi and Antonin Fourneau.
EFEST festival and his creator Afif Riahi accompanied by his incredible team welcomed Eniarof for an exceptional residency. The headquarters was being set up in the Abdellia Palace in La Marsa. For the first time in the EFEST, we wanted an Eniarof with a North/South dimension. Partnerships had been established with the GoD|Art research group of the EnsAD school, the support of the French Institute and the Goethe Institut, artists and students from German universities, as well as the independent game festival Amaze Festival created by Thorsten S. Wiedemann in Berlin. The Tunisian participation was made up of students from the Esprit engineering school as well as freelancers from the Tunisian maker community. The one-week design workshop brought together participants from Tunisia, France and Germany in a collaborative format and exchange of skills. They were assisted by a team of supervisors made up of Niklas Roy, Antonin Fourneau, Sophie Daste, Kati Hyyppä, Jérémie Cortial and Roman Miletich. What was sought here was to bring together communities of makers from different backgrounds and backgrounds to promote joint creations. About twenty participants, students, hackers, designers, gamers, programmers, were gathered around collaborative projects, in which each participant sought to develop new forms of attractions around gaming. The end result materialized in the form of a festive exhibition that was both futuristic and in keeping with the original spirit of innovation of the fairgrounds of yesteryear. A public of all ages was invited to come and interact with the installations created.
An Eniarof scarf was made especially for this event :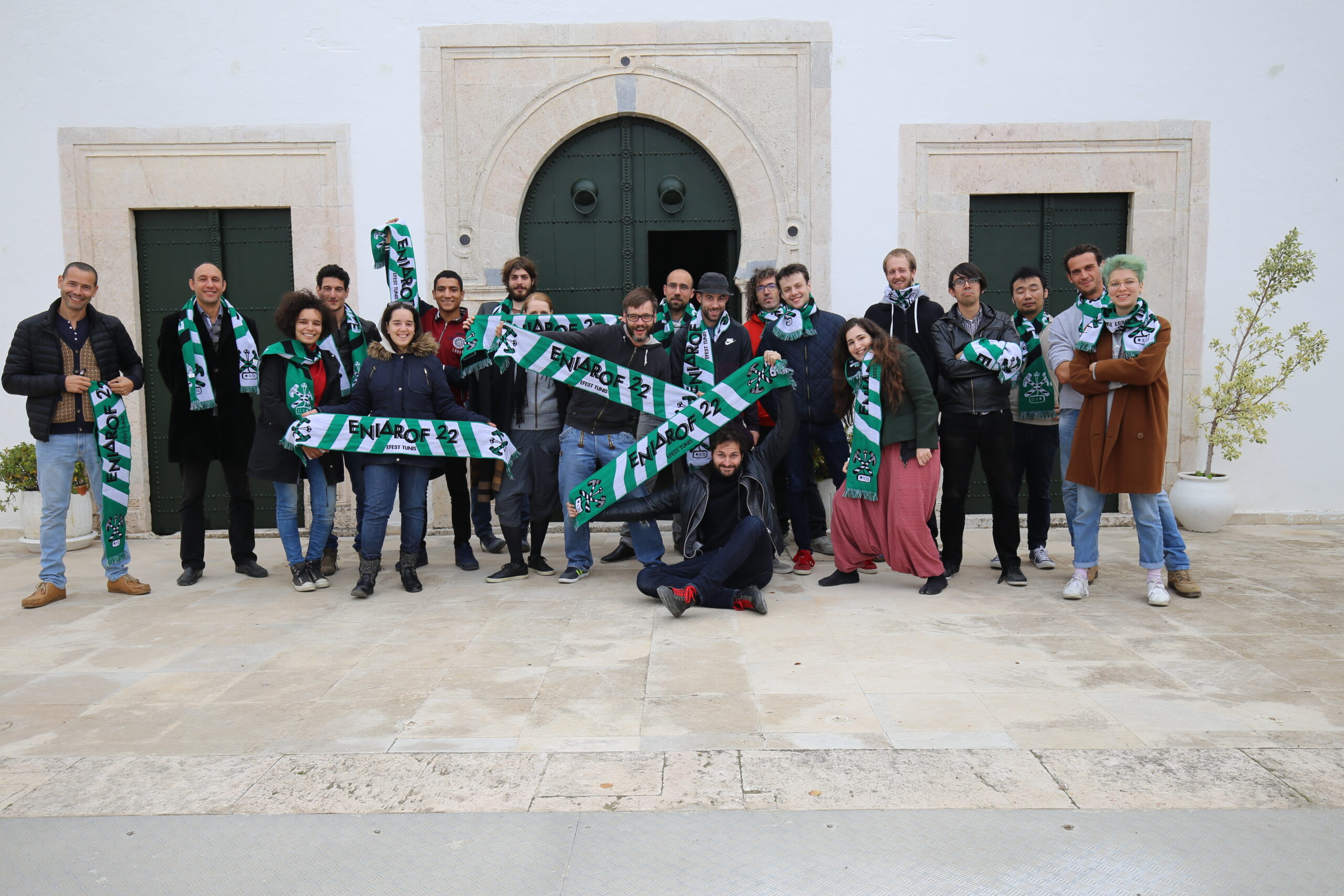 Here is the list of attractions presented during the 3 days of the event: