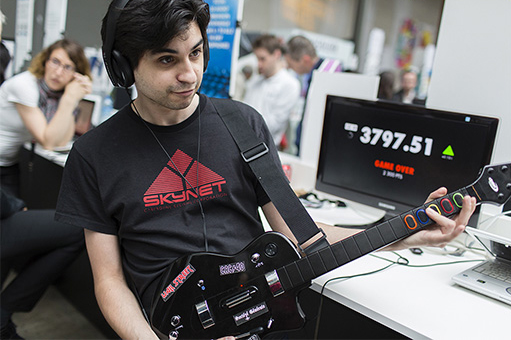 Florent Deloison was born in Amiens (northern France) in 1983. He studied at the Art School of Aix en Provence, to the School of the Art Institute of Chicago and Ecole des Arts décoratifs de Paris. He lives and works in Paris where he teaches interaction design at Orleans Art and Design School and at ENSCI – Les Ateliers. 
He has exhibited his work in France and abroad, at festivals or in institutions (Centre Pompidou, Gaite Lyrique ..).
His work, as part of the Giscard-Punk movement, reveals objects of an era that never occurred. These proposals, challenging issues of efficiency and usability, are strongly influenced by video games, popular culture, film or contemporary history. He is interested in flows, data transformation and to the materialization of information. It uses the world and its new elements (media, networks, data flow …) as a faucet that will feed his works.